[Noteworthy] Desiderii Marginis Interview Unlocked, Ishkur's Guide, Kim Cascone, For The Innermost, Teutonkhamat, & More
Your friendly neighborhood dark ambient music nerd returns with good news: the Desiderii Marginis interview is now unlocked (no paywall). In the coming months I'll do the same with the Northumbria, Hypnagoga Press, and Ulf Söderberg interviews.

Endarkenment is still reader-funded through paid subscriptions, but now makes all interviews available to everyone. For more information about this experiment to unlock the "commons" in support of the dark ambient community, see my recent announcement.

In this issue:
News: Desiderii Marginis Interview Unlocked

Ishkur on Dark Ambient: "A healthy, vibrant scene has emerged…"

Kim Cascone of Silent Records on Light and Dark Ambient for Meditation

Dark Ambient Blog History: For The Innermost & Teutonkhamat

On the (Relative) Dearth of Authoritative Dark Ambient Music Journalism
In 2019, 20 years after its original launch, Kenneth John Taylor - aka Ishkur - updated his influential (and ad-free) online map of dozens of electronic music genres, including dark ambient. With a spiffy new interface, Taylor delivers updated-but-still-irreverent commentary and representative track samples from each genre. The guide covers music from several decades, with the dark ambient and drone sections very closely linked.
I spent an enjoyable afternoon listening to all 85 selections in Ishkur's dark ambient playlist, finding it to be equally populated with familiar-to-me artists (e.g., Troum, Endvra, Atrium Carceri, Alphaxone, Cities Last Broadcast, Visions, raison d'être), and new-to-me artists (Morphogenesis, In The Mist, Chris Korda, Dream Metaphor, Adham Shaikh, Cyclotimia, Leo Anibaldi.) I'm delighted to find that many unfamiliar-but-worthy dark ambient track samples all in one stretch without having to scour the far corners of the internet for the more obscure pieces such as "P.D." by Keith Arem from 1995 (which I was unable to find anywhere.)
Interestingly, while Taylor makes it clear that an alternate name for the dark ambient genre is atmospheric industrial and acknowledges that much of the genre's early history is generally considered an offshoot of industrial, he does not map dark ambient as a direct descendant of industrial. Instead, he places dark ambient as a closer descendant of ambient, Krautrock, and minimalism. He places the stylistic origins of dark ambient in the 1980s. That makes sense to me (see, for instance, Lustmord, SPK, and Zero Kama), though a compelling case could also be made that its roots emerged earlier than that (see, for instance, Tangerine Dream, Popul Vuh, Klaus Schulze, Catherine Christer Hennix, and Eduard Artemyev.)
Taylor takes a tongue-in-cheek tone in the genre descriptions, openly acknowledging his biases and poking self-referential fun at obsessive nerds who overthink the minutiae of electronic music and culture. (Ahem.) Nonetheless, it can serve as a helpful map of the territory when taken lightheartedly and in context. I'm inclined to agree with this assessment, for example:
"Dark ambient," he opines, "…could never shake its reputation as the creepy weird kid of the ambient world and it likely would have remained a super-niche genre for fans of the bleak and macabre. But something changed this past decade. Dark ambient has exploded with releases that dwarf its earlier output. Part of that is due to the same "ease of access" factor that flooded ambient with laptop productions, but there's more going on to this story than that. A healthy, vibrant scene has emerged…[…] …for a scene that can come off pretentiously grim-dark from the outside dark ambient is one of the more friendly groups you'll encounter in electronic music."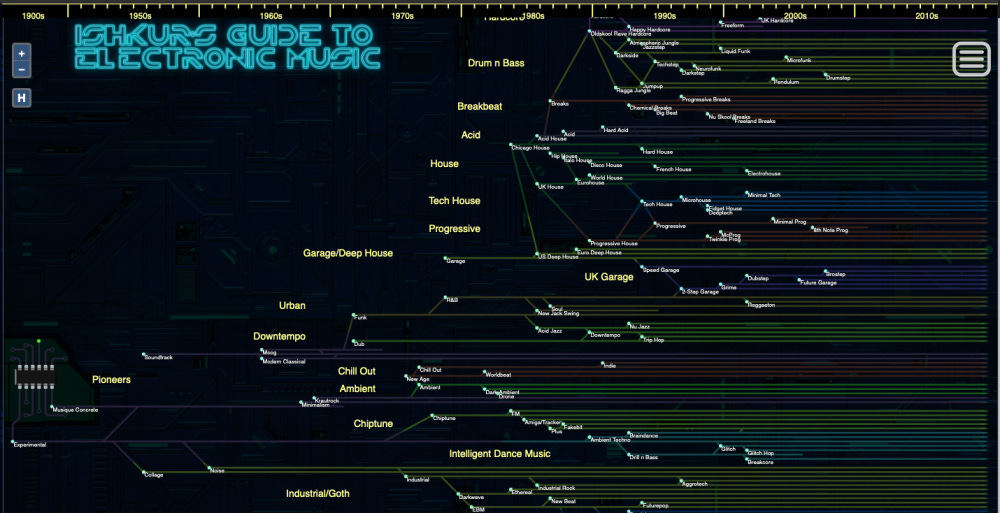 3. Kim Cascone of Silent Records on Light and Dark Ambient Music for Meditation
While conducting research for a theme I'm working on for the in-process book manuscript (working title for the section: "Sketches Toward a Philosophy of Dark Ambient"), I often search the deep web for essays and scholarly studies on meditation and esoteric philosophies in subcultures centered around ambient and drone music. In previous issues of Endarkenment, I've quoted works I appreciate by Marcus Boon and Emma Hacking. Another source that has helped me sharpen my thinking on "philosophy of the drone" is Kim Cascone, who founded the early ambient label Silent Records in 1986.
Cascone decided to steer the label away from the surge of interest in industrial that took place during the late 1980s and early 1990s. (That refusal to be pigeonholed may be why yours truly, an old-school rivethead whose path into dark ambient was mediated entirely by industrial, didn't hear much about Silent Records until much later.) The label's releases span "light and dark ambient" and highlight music for connecting with the subtle realms, while remaining refreshingly down-to-earth and free of occult obfuscation.
"In our society," Cascone writes, "we privilege the materialist mode of consciousness over the spiritual/intuitive. And in the technological arts, such as electro-acoustic music, this is very obvious. Much of what is created in the technological or media arts foregrounds the materialistic aspect of the work. I see a need for a re-balancing of our approach to creativity where the material is the carrier for the spiritual. […]
"An artist has a responsibility to tap into things much greater than herself, to bring things into this world that can serve as artefacts from the supernal realm…"
Those with an interest in dark ambient as a catalyst for contemplative practices and explorations of the imaginal realm may enjoy reading more about Cascone's work, including Subtle Listening workshops featuring music-based meditation techniques that he describes as "very different from sitting and clearing the mind of chatter."
"As I immerse myself in reading and meditation, an inner world starts to form. Once this inner world starts to form it guides your waking-world decisions, but you need to develop the correct organs of perception to sense this. Then you need to go back and forth between the divination of creating the inner world and the intention of manifesting in the outer one.
"In my Subtle Listening workshops, I conduct a guided meditation that brings the meditator to an inner world then have them bring back whatever sounds they heard there and use them in a piece of sound art or music."

4. Dark Ambient Blog History: For The Innermost and Teutonkhamat
If you've followed my work for awhile, you may already know that I cite Vladimir Gojkovic's erudite blog For The Innermost (which I discovered circa 2011) as one of the major influences on my decision to start writing Endarkenment: The Esoteric in Dark Ambient Music and Culture.
I sometimes wonder what would have happened to me if I hadn't encountered For The Innermost when I did. At the time, I was learning a lot more about dark ambient through the similar artists feature on last.fm, and the artist bios intrigued me. I started poking around online for more in-depth features, but I found few sources that impressed me. I found it baffling that there were so few skilled writers concentrating on a genre that had been around for decades, and the relative dearth of in-depth interviews dismayed me.
Vladimir's blog played a pivotal role for me because it gave me the context I needed. It's not that his coverage was comprehensive; far from it. What drew me in is that he's such a skilled writer - technically, of course, in his command of the craft, but also in the depth and breadth of his knowledge about the music as "mirror of the soul." He hinted at some of the philosophical and literary inspirations behind the music, which inspired me to dig deeper.
His work helped me understand that dark ambient had a community context and a long history far beyond what I knew about at the time. Without that context, I'm not sure whether I would have decided to start writing a book on the genre. In 2012 I felt sure that, if a blog like For The Innermost existed, then the genre must be on the upswing and would soon have some other professional sources - like, say, a print magazine - for me to learn from and savor.
Sadly, For The Innermost has been offline for many years now, but some of it lives on in archived form at archive.org. I recommend it for a peek into a valuable slice of genre history and culture. See, for example, his evocative interviews with Thomas Köner, Psychomanteum, Svartsinn, Nordvargr, and Northaunt.
A sample interview question: "Imagine that someone completely unfamiliar with the dark ambient genre asks for one album that you feel depicts the entire genre best. What do you recommend?" (Tough question! Spoiler: both artists who answered this selected an album by raison d'être.)
Gojkovic's astute writings tease out some of the more elusive intricacies and paradoxes in dark ambient, and at times he practically bubbles with endearing (and infectious!) enthusiasm for this much-misunderstood genre. What's not to like?
Equally inspiring and worthy of accolades is Edward Rinderle's blog Teutonkhamat ("musings on electronic echoes"). From 2014-2018 he published insightful and fantastic reviews revealing a broad and deep knowledge of obscurities in dark ambient and related genres. He also wrote reviews for the long-running Heathen Harvest Periodical from 2015-2017. I recommend his back catalogue (see, for example, his reviews of albums by raison d'être, Desiderii Marginis, Mount Shrine, Irezumi, Kammarheit, and TeHÔM). His measured tone, even-handed appraisal, professional editing, and command of high English place his work in a music-nerd-class of its own, yet with nary a trace of elitism.
Will we hear more from either of these brilliant and talented writers one day? That remains to be seen; let's keep our fingers crossed. While Rinderle's blog appears to be in extended hibernation, for now it's still online in full for readers to enjoy while we still can.
A few clips from Rinderle:
"It's dark, but not evilly so; its darkness is born from mystery, and the sound design and attention to detail radiate care and craft. It doesn't rely on drowning the listener in waves of bleakness and distortion, or layers of technical complexity, but uses its technology and tradition to create an aura of unique aesthetics that engage the heart, mind, and ears on equal levels. Ušumgal Kalamma is Herbst9's finest hour."
"There aren't many dark ambient albums I'd label essential for anyone beyond the niche, but Landschaft is certainly one of them."
On Konau - Speech From the Shadows:
"…steeped in the same primal void where Lustmord's Heresy first walked…"
On Kammarheit and Cities Last Broadcast:
"Kammarheit is an aural gallery of grand and somber places, while Cities Last Broadcast is a sonic relic steeped in the lost ghosts of time."
A few clips from Gojkovic's 2011 interviews:
"I didn't really know what dark ambient was. All I knew was that I really liked the ominous and atmospheric intro and outro tracks on most of the death and black metal albums that I listened to…
…people have asked me what type of music it is. I respond by saying that it's dark ambient and they just kind of look at me as if I have three heads."
~ Jakob Detelich of Psychomanteum
"I've seen many dark ambient acts playing live, and I believe it's the most boring thing you could ever see. What's the point of seeing some dude with a sad face playing a snare over a track? Or some dude pushing buttons while drinking a beer? Where is the theatrical element in it? This is why I don't want to do a live act with Triangular Ascension…I don't think my music deserves to be associated with me and my misanthropic look at a laptop."
"Many people I've played this to have shown great interest in it [dark ambient], but they don't understand it as a scene, because no one has had the chance to hear about it."
~ Federico Ágreda Álvarez of Triangular Ascension
"This is actually one of the complaints about my work sometimes – that my music is boring. This "boredom" is a means to allow, to persuade the audience to drift off from my story, the one that I provide with my work, and to connect to their own story, their own memories, their own life."
5. On the (Relative) Dearth of Authoritative Dark Ambient Music Journalism
One question that often arises in my conversations with other dark ambient nerds is: how is it that so much of this amazing genre has remained largely under the radar for so long? Dark ambient music - even if it's called something else - can draw major Hollywood awards, so clearly it's got a large enough potential audience to support a thriving scene. Why do many people find it so impenetrable that they dismiss it as "not really music," then? Why is it still relatively invisible, misunderstood, and unfairly overlooked compared to, say, the various metal genres?
While there are many interesting answers to those questions, for this issue I want to highlight one factor: the relative dearth of authoritative, professionally executed journalism focused exclusively on the genre. Reviewer Alexei Monroe writes:
"Much of the so-called dark ambient scene is not just aesthetically but structurally shadowy and obscure. Many producers prefer the creative autonomy and even anonymity of the deep underground but this obscurity is also externally imposed through a deliberate policy of neglect."
Indeed. Where are the long-view reference books of essays (with bibliographies and indexes) reflecting on the precursors, roots, and development of the genre? Where are the professionally edited podcasts, video interviews, and print magazines discussing the genre's noteworthy milestones, tracing its subgenres and stylistic offshoots, and properly situating the genre within the larger trajectories of underground music history (i.e., not just industrial)? (Yes, I know about Zero Tolerance, but I don't count it, because it's an extreme music magazine focused on metal genres. Their dark ambient coverage, while respectable, is relegated to a tiny section of a few pages.)
If the music nerds in "light" ambient and drone metal scenes can do things like, say, organize university conferences and long-running respected radio programs to address their beloved genres, where are the gatherings addressed to dark ambient (or even "light and dark ambient," for that matter) listeners?
To be fair, things do seem to be improving for dark ambient these days, especially with YouTube driving interest among newcomers. Many people discover dark ambient through Cryo Chamber's 24/7 YouTube livestream, for example. Channels such as jonnie13black, Co.Ag Music, Iron Cthulhu Apocalypse, and The Guild of Ambience attract tens of thousands of subscribers. Others discover it when dark ambient musicians perform at ambient events tailored to a more general audience. Nonetheless, many listeners remain unaware that the genre has a fascinating and decades-long history. At the moment they have few reliable sources available to help them get properly oriented.
What's your take on the state of dark ambient today? Do you think it's unfairly marginalized as the "creepy weird kid of the ambient world," and if so, why? Do you find dark ambient to be more accessible, friendly, and/or welcoming to outsiders than other genres, as Ishkur's Guide asserts, or is it too insular? What else might we do to advance appreciation for the music and the artists outside the confines of industrial?
Feel free to comment with your thoughts. (Note: all subscribers can comment, whether paid or not.)
---
Thanks for reading! You can help support this work by subscribing at USD $5/mo or $50/year, or by giving a gift subscription to a friend. You can also express your appreciation by clicking the little grey heart on your favorite issues, and by recommending Endarkenment to others.
UP-AND-COMING INTERVIEWS:
* Boris Tyurin of Out Of Hell
* Alexander Leßwing of Skadi
* Dark Ambient Sound Bath

RECENTLY PUBLISHED:

* All Art is Political: An Interview with Phragments
* A Cinematic Edge: An Interview with Cryo Chamber Founder Simon Heath
* At The Mountains of Madness: An Interview with Phelios
---
Image credit: graphic art by Pär Boström