At the Mountains of Madness: An Interview with Phelios
by Martin Stürtzer and Danica Swanson
To begin the new year and new decade on the right note, it's an honor to present an in-depth interview with the esteemed Martin Stürtzer, including a previously unreleased bonus video. Our conversation explores the following topics and much more.
his roots in classical music

the first live-streamed Phelios living room concert (in 2011!)

tips on setting up live-streamed concerts

community in dark ambient vs. techno music scenes

a brief history of the Phobos Festival

sleep concert experiences

philosophical aspects of dark ambient music

the new Phelios album At the Mountains of Madness

expanding the reach of dark ambient music outside the "dark" subcultures
Enjoy!

On the first day of a new decade, to inaugurate the 2020s in the proper spirit, I welcome the year's first interviewee: the versatile and accomplished Martin Stürtzer, well-known in dark ambient circles for his influential work with Phelios, Sphäre Sechs, and the Phobos Festival.
This issue also includes a special bonus video. When I approached Stürtzer to propose this interview, I learned that his archives included a never-before-seen video of his first live-streamed living room concert. Recorded on January 1, 2011 - before Facebook or YouTube offered streaming services - I knew the video would be of historical interest to dark ambient fans. Since January 1, 2020 marks the ninth anniversary of this ground-breaking event, I asked if he'd consider uploading it in tandem with this issue of Endarkenment. To my delight, he was glad to oblige.
Raised in a family of musicians, Stürtzer's roots as a classically trained pianist place him among the respected echelons in dark ambient. Early releases in his lengthy discography as Phelios include the EP MCMLII (Enough Records, 2005); Passage (self-released, 2006); and two releases on TonAtom, Falcon (2005) and Klang Ist Ewig with Christian Stritzel (2007). On Eternal Soul Records, Phelios released Images and Spheres (2006) and Dimension Zero (2008), followed by Astral Unity (2010) and Gates of Atlantis (2013) for Malignant Records. The latter part of the last decade heralded the release of Human Stasis Habitat (Loki-Foundation, 2016) and Live in Russia (Raubbau, 2018).
With Stephen Parsick, Stürtzer released It Always Rains in Wuppertal (2007) on Parsick's doombient label. ("Doombient" is quite an elegant portmanteau and label name, I must say). With Pär Boström of Kammarheit, he released Of Dawn And Of Ice (Power and Steel, 2009). Sphäre Sechs, his project with Christian Stritzel, has released four albums to date: Tiefschlaf (2012) and Enceladus (2015) on Malignant Records, followed by Particle Void (2018) and Transient Lunar Phenomenon (2019) on Cryo Chamber.
Also just released, to ring in the new year on the right note, is the impressive new Phelios album At the Mountains of Madness (Loki-Found, 2019). Available in limited vinyl and CD editions, the physical release also includes Perihelion, an exclusive bonus album featuring additional new material from the same recording sessions. The complex rhythmic textures and carefully sculpted dronescapes of "Antarctica" and "The Sea Cavern," in particular, should appeal to fans of Ulf Söderberg's work. Spacious and rich in layers, graced with Stürtzer's fresh sensibilities and skillful execution, At the Mountains of Madness traverses vast and far-flung mountainous and cavernous musical terrain.
Common to many releases in Stürtzer's voluminous body of work is a fascination with space themes; he's proficient at transmuting interstellar wonders and a mélange of galactic atmospheres into auditory form. Many of Stürtzer's best tracks stand out for their judicious blend of muted astral synth washes and the otherworldly quaver of the theremin. In conjunction with his performance at Phobos IX, he selected masterful 3D nebula art by the talented Teun van der Zalm, aka Salmonick Atelier - an ideal complement to heighten the sense of intergalactic reach.
Exquisitely mournful tracks such as "The Funeral of the Wizard" from Images and Spheres and the pensive "Stasis Device" from Human Stasis Habitat remain in heavy rotation at the Endarkenment production studio, having stood the test of time. My heart still swells every time I savor the perfectly placed low-frequency bass introduced at the 30-second mark in "Stasis Device," for example, as it transports me into yawning corridors of the imagination. A few personal favorites among his lesser-known tracks include "III" on MCMLII, and "Outworld" and "Dimension Zero" from Passage. Another hidden gem calling for a closer listen is Entropy Reversed, his 2009 collaborative release with False Mirror that has earned an honored place in the forthcoming fourth and final volume in my underrated dark ambient albums series. I find it a crying shame that such outstanding music remains so obscure.

But perhaps there's some consolation in the fact that Stürtzer is rightfully renowned for his role as the organizer of the annual Phobos Festival, for which he hosts top-notch dark ambient performers. Stürtzer's careful recording and editing enables grateful listeners all over the world to enjoy professional-quality videos of the Phobos festival performances.
Performers at past Phobos festivals include a long list of illustrious Endarkenment favorites, such as Allseits, Kammarheit, Herbst9, Shrine, New Risen Throne, Visions, and Vestigial. Note that pre-sales begin this month for the Phobos Festival XI taking place on March 21, with confirmed performers including Nam-Khar, Atomine Elektrine, and Aidan Baker.
Visit his YouTube channel, where he hosts occasional live-streamed studio production sessions, to sample a cross-section of his synthesizer work spanning several genres including dub techno and ambient. If you often select dark ambient music to accompany contemplative practices such as meditation, I also recommend "Inside the Blue Vortex," an expansive mix sans drums or rhythmic structures. During the editing process for this interview, I found it particularly conducive to my creative flow.
Embark upon an exploratory voyage with Endarkenment as Martin and I delve into the origins of the Phobos Festival, the preparations involved in streaming concerts, and his laudable efforts to extend the reach of dark ambient music outside the standard discovery channels.
---

Danica: Greetings Martin! As a long-time listener, it's a pleasure to have this opportunity to interview you. To start off, I'd like to inquire about the general trajectory of your artistic career. As a classically trained musician raised in a family of musicians, you gained access to tools for making music early on. How would you characterize the stages of your development as a musician? Do you recall any pivotal moments that decisively shaped the course you've taken toward dark ambient in the intervening years?
Martin: Greetings! You already outlined the most important steps. Music happened all day in my childhood. I heard the Wagner operas as an embryo when my mother was sitting in the orchestra playing the violin. (It was Wagner-year when I was born in 1983.) My father gave piano and drum lessons in our apartment. Growing up, I wasn't pressured to play anything, but my interest in piano grew quickly. Until the age of 10, I listened to classical music only. The situation changed when, a few years after my parents broke up, my mother married again. Together with her new husband, a lot of synthesizers moved into our apartment.
My first point of contact with electronic music took place through TV broadcasts of large techno events such as Mayday in the early 1990s. My stepfather's equipment wasn't really suited for techno music, but I started experimenting on my own. Not caring about genres or thinking anyone could possibly listen to what I was doing, I started to dive into synths and electronic music. When I moved into my own flat after graduating from school, I got my first two synths: an Access Virus A and a Korg Triton. With this setup, I recorded my first ambient and dark ambient music pieces.
I started a web page and offered free mp3s for download. My music included all kinds of strange electronic music besides dark ambient. Volker from Eternal Soul records asked me to send him more dark ambient music, and expressed his interest in releasing an album. That motivated me to focus more on the dark ambient genre, and after a few months of work my first album "Images and Spheres" was released.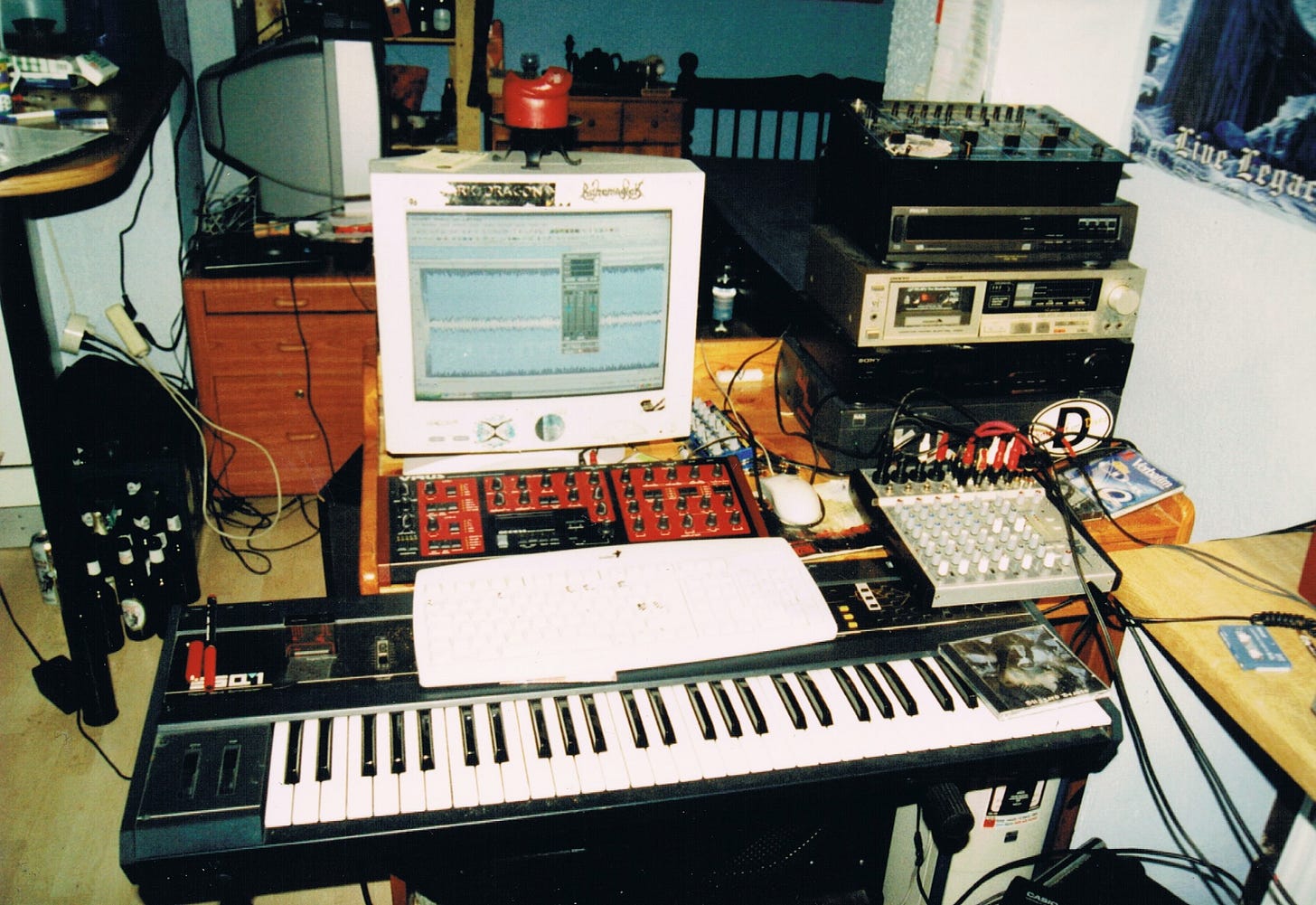 Part of Martin's "creative environment" where he recorded the first Phelios album in 2005. On the right table (not visible): Korg Triton & Tannoy Reveal monitor speakers. (He still has the monitors, the Immortal CD and the tape deck.) © Martin Stürtzer

Danica: Along with this issue of Endarkenment, you've treated us to a bonus video that marks a milestone in dark ambient music history. On January 1, 2011, you live-streamed a concert from your living room in Germany, featuring material from Astral Unity and Passage. Thank you for making this available online for the first time, to mark the ninth anniversary of its release! I find it equally fascinating from artistic, archival, historical, and technical perspectives. Since this event took place before YouTube or Facebook offered live-streaming, clearly you were an early innovator in this area. It's also clear that much has changed technologically in the intervening years. Can you tell us more about what's happening in that video, and how you feel about it in hindsight?
Martin: I wouldn't call it a milestone, as I don't recall anyone speaking of it after I streamed it. But you're correct that there were technical difficulties to overcome. I recall that I found a free streaming service, and a friend of mine helped me set everything up. The whole idea was very spontaneous. I remember that I was in a bar with some friends in late December when I decided to do a streaming concert. I had already played my first shows with Phelios at that time, and I liked the idea of having a concert where I could use all my gear without any traveling and carrying involved.
The notebook computer you see in the recording was only used for streaming. The set was based on an Ableton Live set, but as a hub or looping station for all the synths that I played rather than for backing tracks or pre-recorded elements. Of course I included a few pre-recorded samples from my album productions, such as the drums, but I tried to play live as much as possible. The Theremin I played was processed with an octave shifter and delay and reverb effects. The full setup was: Ableton Live, Access Virus TI, Moog Little Phatty, Korg Triton LE, Clavia Nord Electro 3, Moog Theremin. I also used softsynths like Absynth and Reaktor from Native Instruments. (All those cords in the background have no purpose related to the video. That was my storage space for them - I draped them over a little rail so they'd be readily available as needed.)
When I play with Phelios, I use a lot of new material, including sounds that might never be released on an album. I like to improvise with playing sounds on my synthesizers and keyboards. Typically I use part of an album track here and another part there, but in the end each performance is different and leaves me plenty of space for improvisation. The same thing happened here!
I have good memories of this evening. I announced the concert online, and besides my invited friends, a few people who I'd never seen before attended. I also set up a monitor in my kitchen for another few people who were there. Given the date - the first of January - it was a special night to remember!
Phelios live in your living room: a live-streamed concert recording from Jan. 1, 2011.

Danica: I'd like to hear more about what kind of effort it takes behind the scenes to organize live-streamed concerts now that it's 2020. Can you provide a general overview of the technical requirements, design considerations, skills, and time investment involved? For many of us, it's all too easy to underestimate the level of expertise, labor, and advance planning such ventures entail.
Martin: If I made a list with 10 important things to take care of, numbers one through nine would be "get the audio right!!!" If you just put your mobile phone in front of a stage, the sound will be catastrophically bad. A clean and undistorted line signal from the audio interface or mixer is a must-have. There are free programs like OBS (Open Broadcaster Software) which can mix your video and audio stream easily.
If you'd like to see what's going on, good light is important. And you'll need a lot of time to prepare everything. When I record a 10-minute video at my studio, I put at least a few hours of work into the preparations.
Live-streamed session from the making of the new Phelios album, Aug. 2019.

Danica: One distinguishing factor of your work that I appreciate is the way you extend hospitality and community-building opportunities to dark ambient listeners and fellow artists. In addition to your live-streamed performances, your YouTube channel also features live-streamed recording sessions that invite viewers to take a closer look into your studio-based creative processes. These sessions often include a live chat feature, so viewers can communicate with you personally. What are the intentions and goals behind these offerings?
Martin: Thanks a lot! A lot of people I work with in person daily would be surprised to hear me described as "hospitable." ;) Fortunately I have a few close friends who understand my behavioral quirks and occasional spontaneous mood changes.
When it comes to dark ambient music, I enjoy the idea of a community a lot. I also try to be an active member of the techno scene, but it's much less satisfying to engage with others there. In that scene most people expect favors in return if they book you for a gig or do something nice. Or you release something on a label, but you don't get a reply when you send the next demo. I see more hard-nosed business mechanisms there compared to dark ambient music. For my part, I've never asked an artist how many Instagram followers they have before inviting them to play. With the dark ambient scene, I have a different feeling. There are a lot of artists I talk with on a regular basis, exchanging our thoughts about music and other things.
I started out with YouTube in 2012, and at that time I was unaware that it was actually a community thing. I didn't check my uploads for a few years, and was surprised when I discovered all the comments from people discussing my music. Since then I've generally tried to reply, and I often find others on YouTube who make interesting music that I like and want to talk about. I don't have an agenda or goals there; it's really just for fun. That might explain why I have videos with so many different styles there, from ambient sessions to techno livesets.
Danica: You're highly respected for building a unique concert culture for dark ambient music. Your Phobos Festival, which will celebrate its 11th anniversary this year, attracts praise for its top-notch selection of artists and high standards of professionalism. You wrote in This Is Darkness that you were "…often annoyed by the way this kind of music was presented in a live situation. People talking, no seats and bad amplification are side-effects that I encountered a lot as a musician and as a guest. My idea was to present this music in an ideal environment where both artists and listeners can focus on the atmospheric sounds and video projections." Tell us a bit about the history of Phobos. What components do you consider essential for an ideal dark ambient live performance environment? Why do you think environments like that of the Phobos Festival are so rare?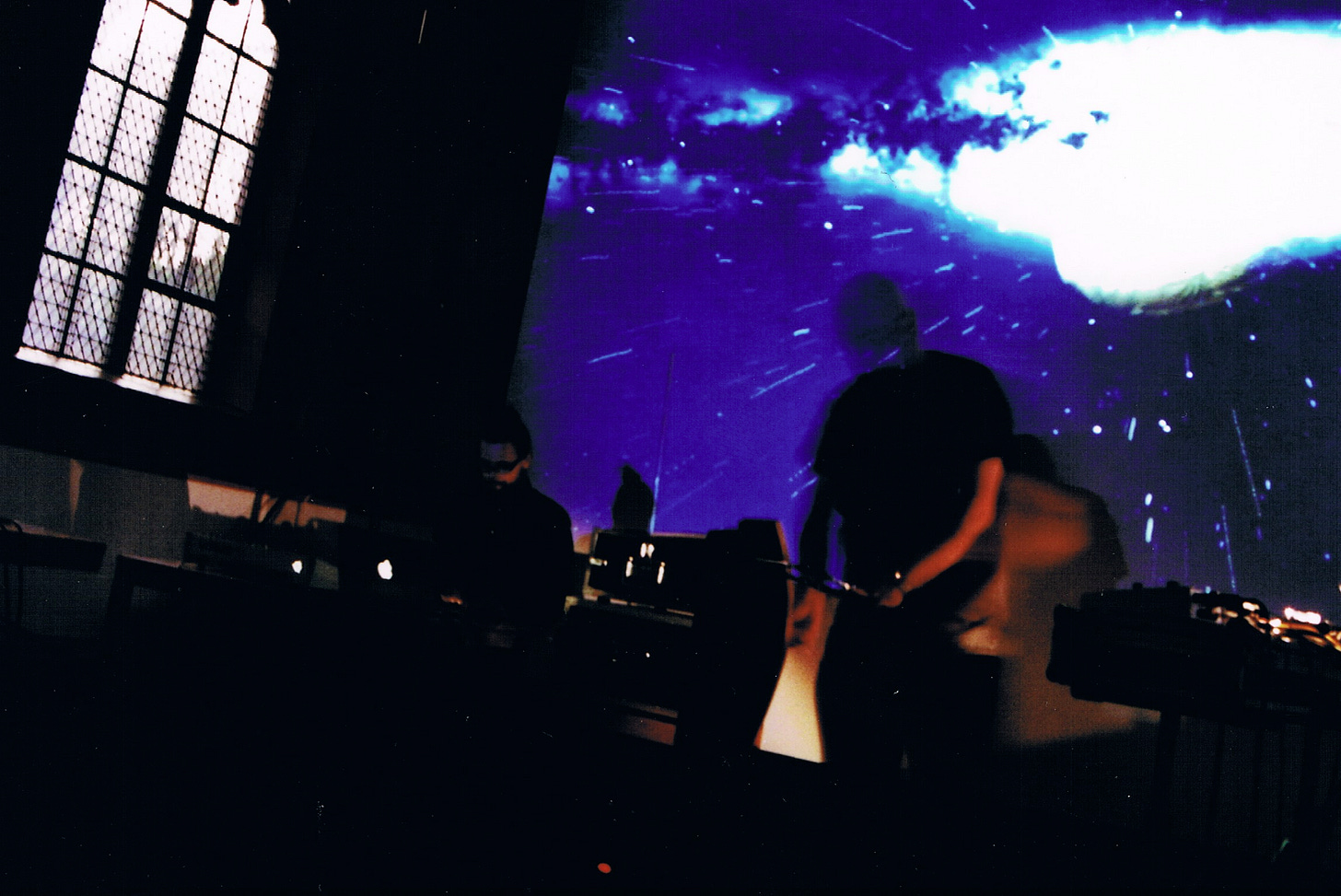 Performing with Christian Stritzel (Sphäre Sechs) at Sophienkirche Wuppertal, 2015. © Martin Stürtzer

Martin: The Phobos Festival is probably the most happy accident of my whole life. My piano teacher set up a concert series at Sophienkirche Wuppertal 25 years ago, and as a young boy interested in strange music, I witnessed a lot of concerts at that church. Most of the artists there were playing modern improvised music and free jazz.
In 2005, I played an ambient concert there for the first time. I played a few solo shows and concerts with guests such as Christian Stritzel, my partner in Sphäre Sechs. Later on I started inviting bands I wanted to hear live, and called it the "Phobos Festival".
The atmosphere was fantastic, and it felt like a "finally, someone is doing it!" moment. The concept has always been the same: good artists - both established and undiscovered ones - in a quiet place, playing for people who appreciate dark ambient music.
As for why environments like Phobos are so rare, one obvious problem is that the artists are scattered over the whole planet. I'd love to see a similar event in Russia or the U.S., but a lot of artists don't want to travel much. I get a lot of replies like "I'd like to play, but the travel would be too exhausting, and I can't leave my job for three days."
I'm fortunate to live in an area of Europe with a dense population, so most of the guests don't have to travel far. If I were to organize a similar festival in an unpopulated area in East Germany, fewer people would be able to attend, which would make it difficult to fund the whole thing.
Phelios live at Phobos, 2018. Nebula art by

Teun van der Zalm

- Salmonick Atelier.

Danica: As someone who has not (yet!) attended in person, I'm curious about your plans for future Phobos Festivals. Will you continue to host them in the now-familiar church in your home town of Wuppertal, Germany, or do you have other locations in mind as well?
Martin: The Phobos Festival can only take place at Sophienkirche because my piano teacher - and later myself - worked at this church as an organist. They don't charge me a rental fee, and they support the festival. It's unlikely that another church would support an event like this, as it's clearly not part of the usual church agenda. I'd be happy to see more dark ambient concerts in other cities, but I wouldn't be the person doing all the work there. I'm just happy when I have the time to keep Phobos running.
Danica: Sphäre Sechs, your deep ambient project with Christian Stritzel, has performed intimate sleep concerts in churches. What appeals to you about sleep concerts as a performer, and (if applicable) as an audience member? What considerations are involved for you in setting up an ideal environment for a sleep concert?
Martin: I performed at two sleep concerts. The first took place at the "Phobos church," and the second took place in an old train station that's now used for concerts and other cultural activities.
As a performer, I find it very interesting to prepare and play for a sleep concert. At a typical concert you're seeking the maximum attention of the listeners, so you plan your set with a certain tension and tell a story during your one-hour performance. In a sleep concert, by contrast, you want everyone to sleep comfortably.
For the first few hours most people are awake, so they want to listen and get into the atmosphere while they familiarize themselves with the surroundings and the music. At some point more listeners fall asleep. Since the audience now occupies a liminal state between sleeping, being awake, and dreaming, their perception of time is no longer linear. If you wake up, you may have no idea how long you were sleeping. Ten minutes can seem like an hour, or vice versa. During that phase, I make only small changes to the music. It's so much fun to see how most listeners react when I blend in a new sound, because they're processing the new sound on a subconscious level. I wonder: what's really happening? Maybe a new element appears in their dreams? Or maybe they don't recognize the new sound at all?
Later in the night, everyone is in a deep sleep. At that point I'm the only person awake, and I feel like I'm watching over them: I hold the responsibility for their safety and the quality of their sleep. They would probably all sleep better if they stayed at home in their beds, but they decided to attend my concert. I respect that, so I want to give them a good experience.
I stay very focused and fully awake, as I would in any other concert. Since the set is improvised, I look for new sounds all night and come up with melodies and other sounds on the fly. If I prepared the whole set, it would be boring and I'd fall asleep!
The last segment of the concert takes place in the early morning hours, and I have to wake everyone. When I shift the music from quiet ambient territory to sequencer music, maybe even with beats, most people wake up. After the music is finished, the conversations begin: "Did you pick up that bird-sound in the night?" "No, but I dreamed I was on a ship…" and so on.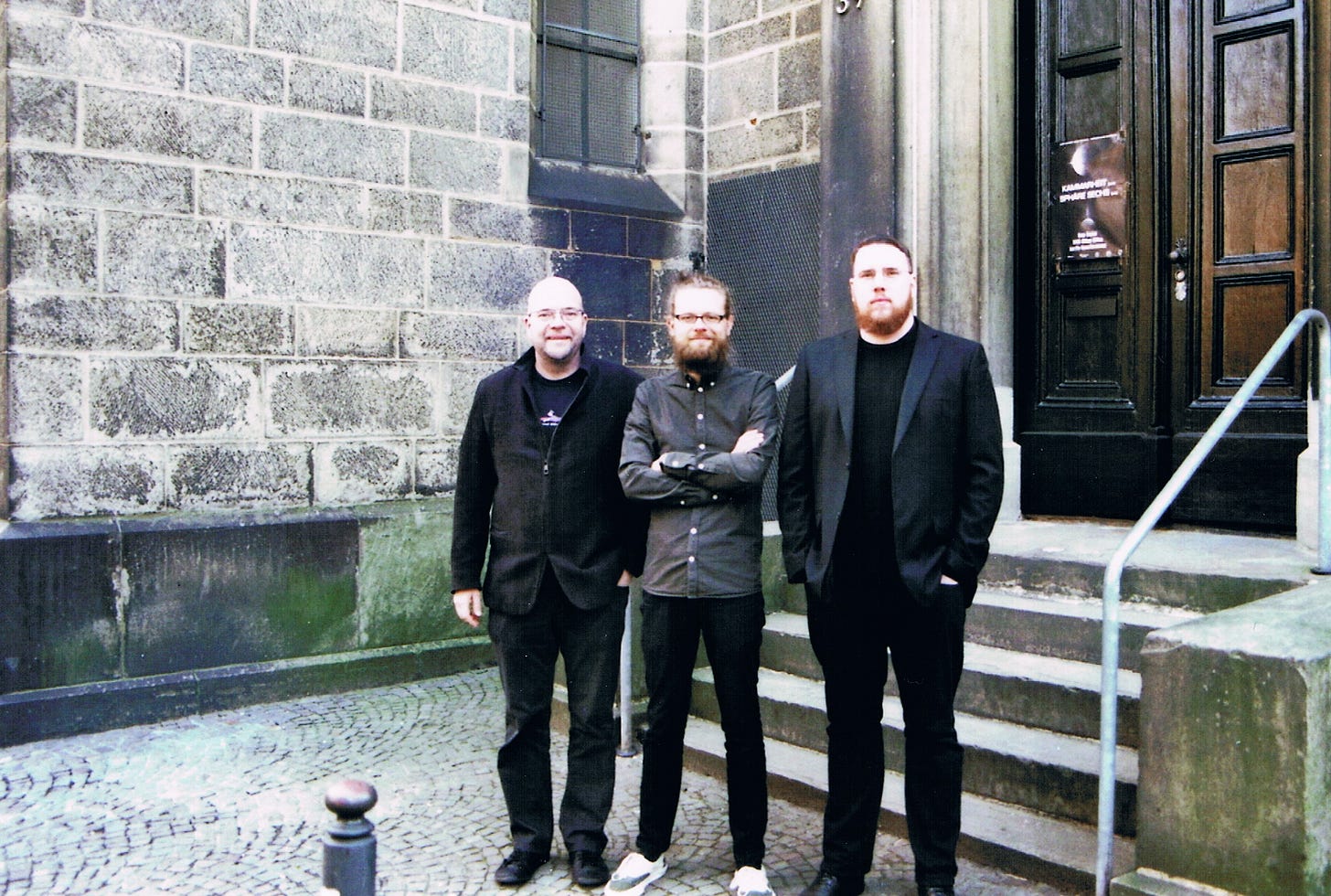 L to R: Christian Stritzel (Sphäre Sechs), Martin Stürtzer, and

Pär Boström (Kammarheit)

in front of Sophienkirche before Phobos, 2015. © Martin Stürtzer

Danica: What does a typical day look like for you, including work, family, social time, and other activities? How do you structure your time with respect to your various creative processes for Phelios, Sphäre Sechs, and your other responsibilities?
Martin: I don't really have typical days. Sometimes I wish I had a more regular agenda, as I often find it difficult to get everything done. There are days where I'm out of the house from early morning until late evening. On those days I play the organ, conduct a choir, teach a course on "music with computers" at Wuppertal University, and rehearse with ensembles for concerts. On other days I have no scheduled activities outside my home, but many things to prepare. I may write a score for a rehearsal, finish music for one of my projects, prepare for a techno liveset, and book hotel rooms and flights for a Phobos Festival performer. Whenever I have the time and energy to do something unrelated to music, I ride my bike. I don't have a car, and I ride between 100 - 200 km on my bike(s) each week.
Juggling all the different music projects seems difficult, but I'm always working on only one project at a time. Last summer I finished the new Phelios album during my annual hiking tour in Norway, but I didn't work on anything in the studio for two months. Then I recorded a new dub techno album, which kept me occupied for two more months. Later in the year I rearranged my setup to prepare properly for my new techno liveset. In late December I played at Tresor.West, an offspring of the famous Tresor club.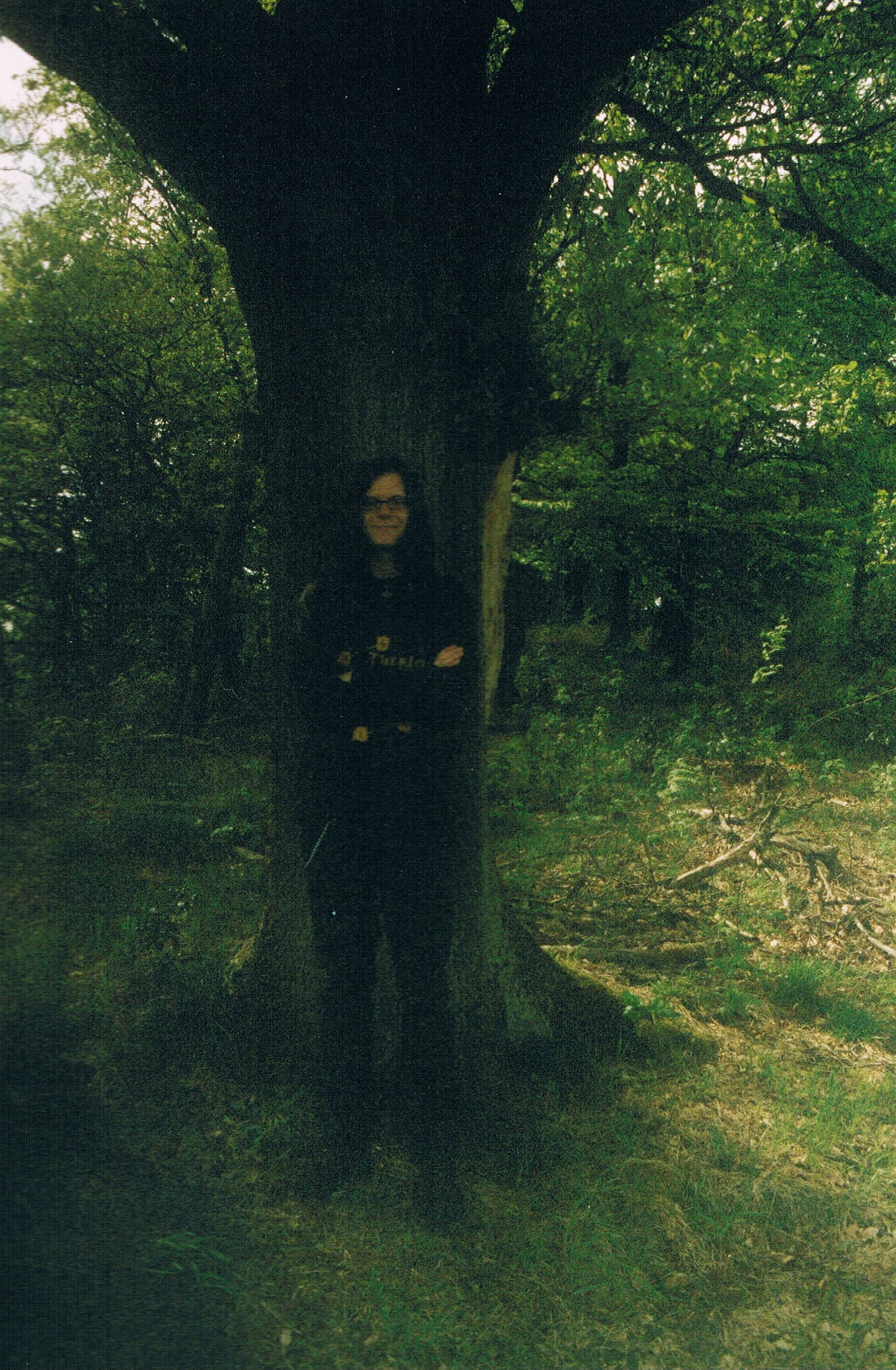 © Martin Stürtzer, 2003.

Danica: In addition to dark ambient, you also compose and perform ambient dub techno. How much overlap and cross-pollination, if any, do you see from other genres to dark ambient? Do you find that some fans discover your work through techno and then learn to appreciate your dark ambient music, and/or vice versa?
Martin: I did no market research, but I know a lot of people who listen to Phelios also enjoy my other ambient projects or my techno sets. I try to keep the genres separated in different projects to avoid confusion. I'm guessing no one is listening only to dark ambient music 24/7.
Danica: One of the reasons Endarkenment covers dark ambient music exclusively is to reach people who might never hear it through the standard channels. Although the genre now seems to be growing, dark ambient music remains marginalized in many ways. It's frequently dismissed by outsiders as "evil" or "not really music," and it's typically associated with Satanism and extreme music genres such as industrial or black metal. On the other hand, I sometimes hear from avid listeners of mainstream ambient or film soundtracks who are stunned and delighted to discover that there's an entire dark ambient genre, as it has remained completely off their radar. What's your take on the marginalization of dark ambient music? Are there built-in limits to its appeal, or do you think it has untapped potential to reach wider audiences than it does now?
Martin: Well, you already mentioned the most important factors. A lot of people like ambient music or even dark ambient music without knowing that's what it's called. To reach out to this potential audience, I recently created a new series called "Elberfeld Ambient". The concept is similar to the Phobos Festival, but with local artists only, and an entry fee of 8 Euro. I had 100 people at the first edition in October 2019.
I must say that I enjoyed this evening a lot. I'd much rather stumble over people lying on the floor listening to the shows, instead of being afraid that someone with a "Jesus is C**t" or SS skull on their shirt might attract the attention of the people responsible for the church.
Music culture always evolves. A great deal of interesting music is happening all the time, and there are many interesting artists who make music like I do but have never heard of a label called Cold Meat Industry. This is not a bad thing. For that matter I also like what Cryo Chamber is doing a lot. The label maintains a strong focus on dark ambient music without the side effects that might scare off anyone who just discovered the music.
Danica: My conversations with other dark ambient aficionados have sometimes included sketches toward an informal "general philosophy of dark ambient music." For some listeners, there's a sense that good dark ambient and drone music contains wisdom that far exceeds what we might expect when it's framed strictly as a musical style or scene. One thing we've observed, for instance, is that dark ambient often lends itself more readily to meditation, contemplative practices, and expanding perceptual capacities than to entertainment per se. What are your thoughts on this? What theories, ideas, and observations would you expect to find in a study on philosophy of dark ambient music?
Martin: I've never thought about the philosophical aspects of dark ambient music before. But I know a lot of people listen to my music during meditation, or while drawing or doing other creative things. It's a privilege to take part in such intimate moments of a person's life with my music.
For me, dark ambient music or ambient music in general can be a way to change or switch off the perception of time. We experience time in relation to our heartbeat. When there is no beat in a piece of music, we have an opportunity to free our minds from the concept of time for a moment. That's why I like to listen to ambient music while I'm asleep or drifting off, and why I enjoy performing at sleep concerts.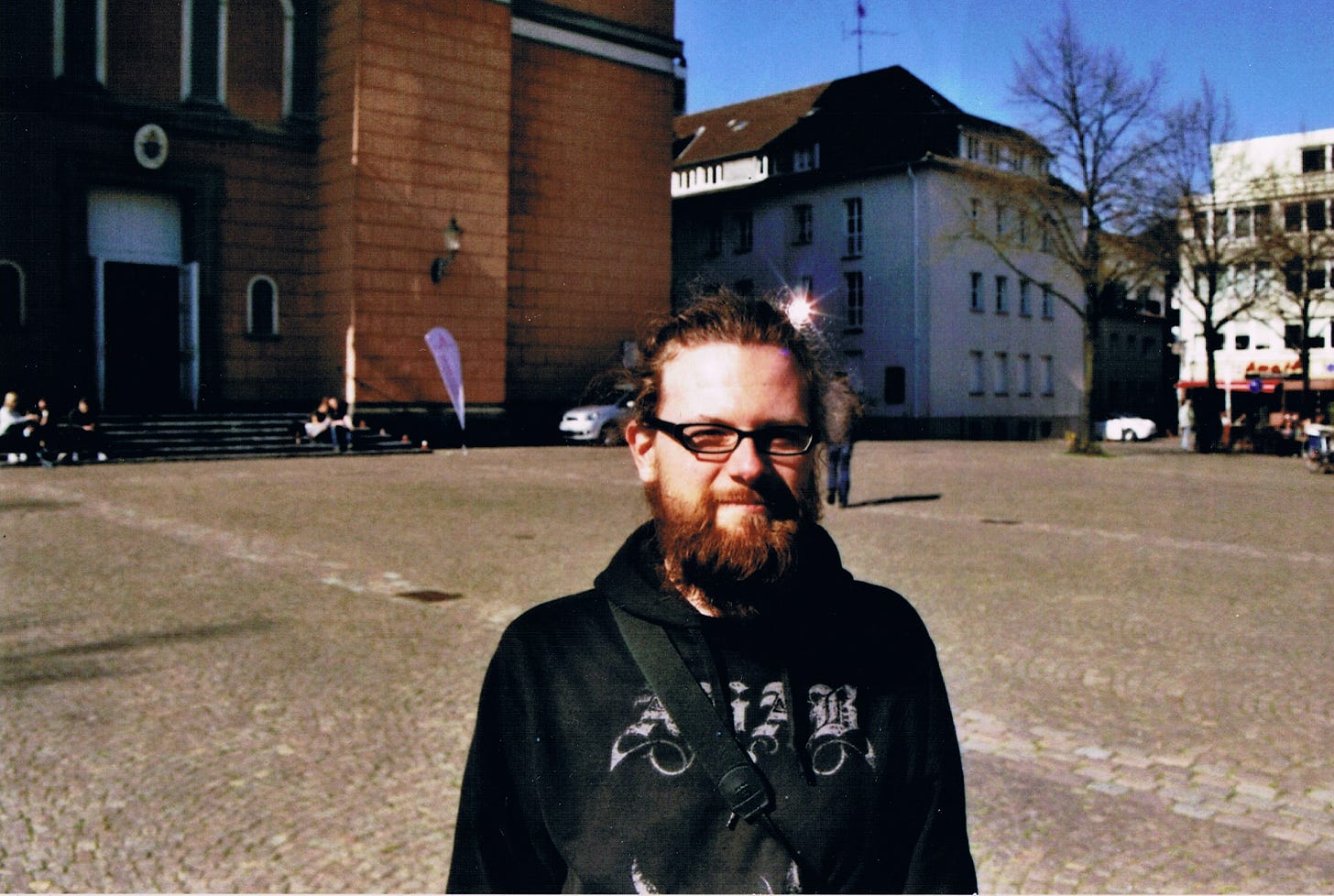 At a public square in Wuppertal, 2015. © Martin Stürtzer

Danica: What are some of the challenges you face as a professional musician that remain largely invisible or under-reported? What, if anything, could your listeners do to make things easier?
Martin: About four years ago, I took a brave step and moved from a secure and well-paid job into being a full time musician. I completely underestimated how much work that would involve. I still only do things I like; I'd never play in a cover band or other nonsense just for the money. But it's still very challenging to coordinate everything. I need a lot of time to practice for the different gigs or jobs.
Now I'm lucky to be back on a regular income and able to make music all day. So any listeners are already helping! Buying records or downloads on my Bandcamp page also helps a lot. But I'm sure you've already heard that one.
Danica: You're often seen sipping tea such as "earl grey, hot" while you work. As a fellow tea drinker (my favorite is smoky lapsang souchong), I must take this opportunity to ask: do you have any other favorite teas to recommend?
Martin: Most of the time I drink a black tea from Nepal that tastes similar to the classic darjeeling. I had my Earl Grey phase in my early 20s and the "tea, earl grey, hot" is a Star Trek reference, obviously.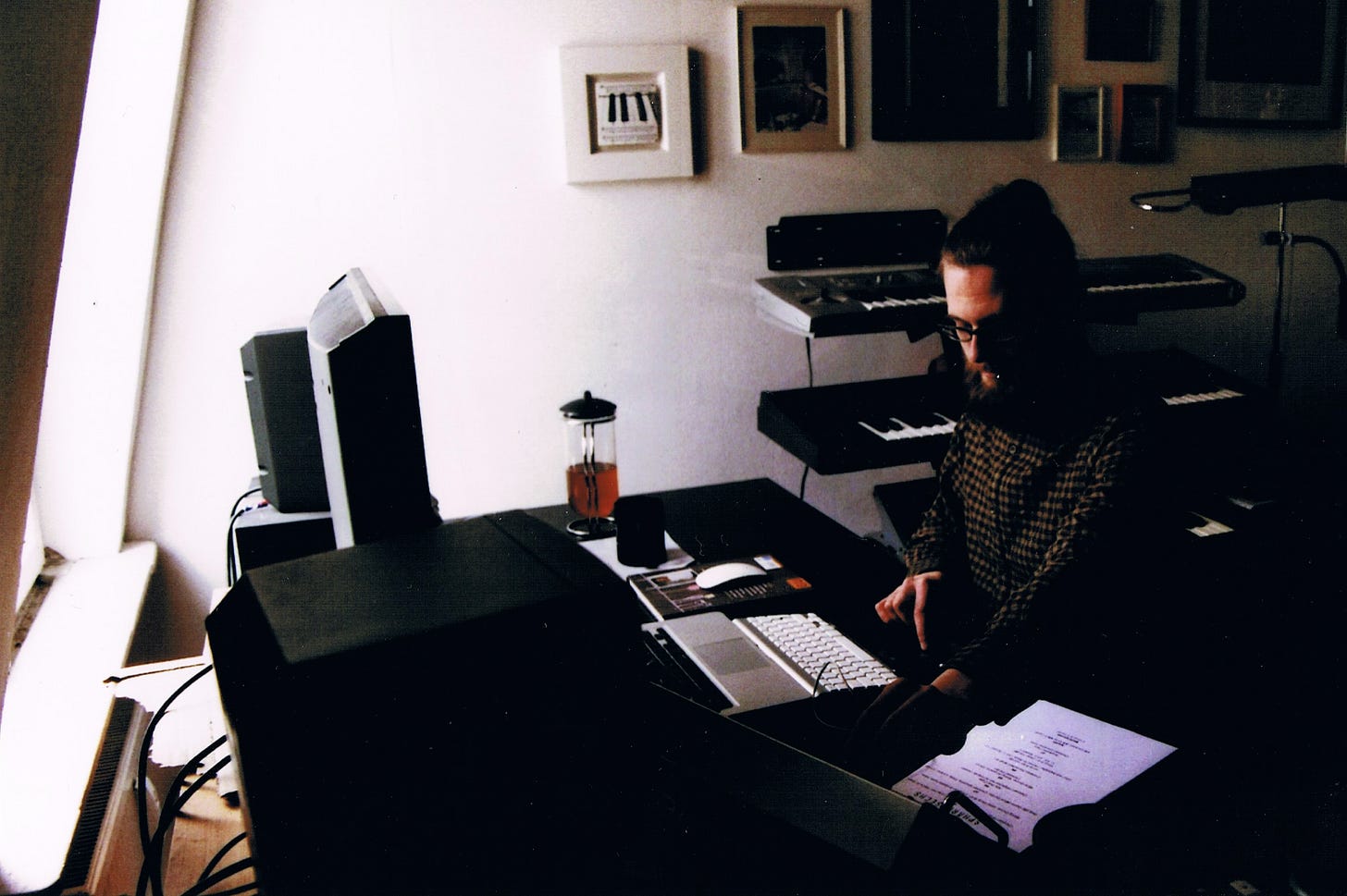 In his former apartment & studio, 2015. © Martin Stürtzer

Danica: Your new album At the Mountains of Madness has just released via Loki-Foundation. What can you tell us about it? The title is inspired by H.P. Lovecraft, I assume?
Martin: My label will probably hang me for saying this in public, but my music is usually not inspired by anything. I finished the music for the album last summer (2019), and it took me about six months to find a concept for the title and artwork. The final touches for the music were made after my annual hiking and biking tour through Hardangervidda, Norway, so the mountain theme was on my mind. I read the H.P. Lovecraft novels from time to time, and I thought the At the Mountains of Madness novel seemed fitting for my music. But like I said, all the music was already completed. Not one note was written or recorded with that theme in mind.
Danica: Is there anything you'd like to add? If so, the last word is yours!
Martin: Thank you very much for the interview and your supportive work for the dark ambient music scene!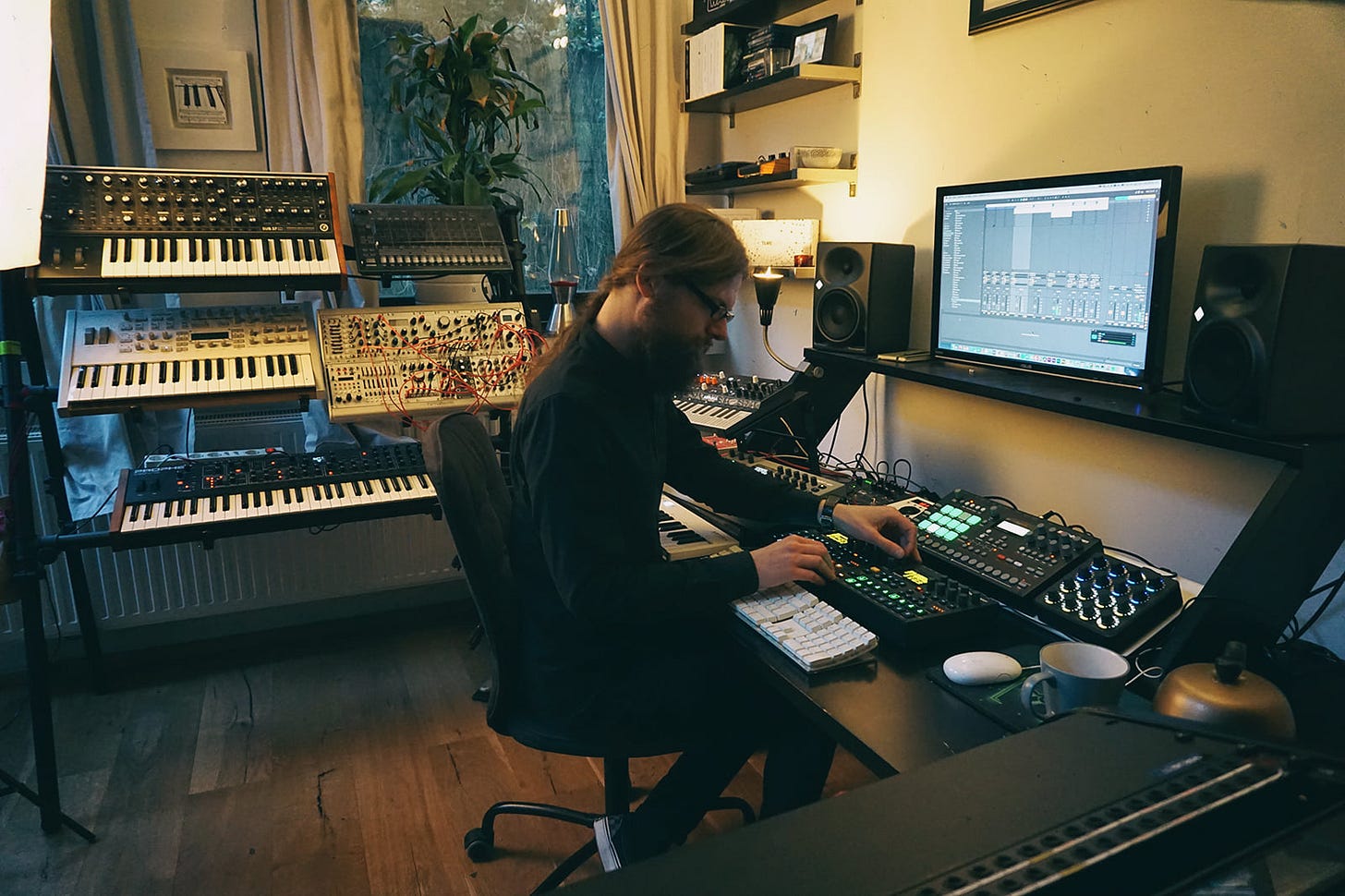 In his current studio. © Martin Stürtzer
---
Thank you for reading and supporting the work of independent artists!
Funding for the interview production process is provided by paying subscribers, whose collective support makes it possible to gift these in-depth interviews to the whole dark ambient music community. You can help support this work by subscribing at USD $5/mo or $50/year, or by giving a gift subscription to a friend.

You can also express your appreciation by clicking the little grey heart on your favorite issues, and by recommending Endarkenment to others.
---
UP-AND-COMING INTERVIEWS FOR 2020:
* Boris Tyurin of Out Of Hell
* Alexander Leßwing of Skadi
* Dark Ambient Sound Bath

RECENTLY PUBLISHED ALL-ACCESS INTERVIEWS:

* All Art is Political: An Interview with Phragments
(long-read annual special issue for 2019)
* A Cinematic Edge: An Interview with Cryo Chamber Founder Simon Heath

EXCLUSIVE PAID-SUBSCRIBER-ONLY INTERVIEWS (soon to be re-released publicly):

* Scandinavian Heritage: An Interview with Ulf Söderberg
(long-read annual special issue for 2018 - his first interview in over a decade!)
* Where Curiosity Leads: An Interview with Desiderii Marginis
* The Power of Nature: An Interview with Northumbria
* A House Between Worlds: An Interview with Hypnagoga Press
Archive of all previous issues for both subscriber tiers here.
---
Image credit: graphic art by Pär Boström
To find out more about the company that provides the tech for this newsletter, visit
Substack.com
and read the posts in the
On Substack
archive.