All Art is Political: An Interview with Phragments
by Matej Gyárfáš and Danica Swanson
I'm delighted to present the annual long-read special issue for 2019, featuring Matej Gyárfáš. In the following introspective interview - the first open-access interview for Endarkenment - Matej and I explore:
the meaning of the name Phragments

the importance of artists taking a strong and principled political stand

reactions to the minimalism of New Kings and New Queens

suggestions for developing a robust appreciation of dark ambient

his early roots in industrial music

his literary tastes and background in academia

the difference between hearing and listening

lessons drawn from his many creative collaborations

the role of dark ambient in his spiritual life

conditions that nurture his creativity

the unexpected joys of performing at sleep concerts
…and lots more. Enjoy!
---

"…remember, there is no light without darkness!"
- Matej Gyárfáš
When I began listening to the music of Phragments and reading early interviews with the talented and erudite Matej Gyárfáš, I remember being intrigued by the way he described the project as a duo, with "Matej who creates the music and Sonic(k) creator of the videos." That's interesting, I thought. Though he takes full responsibility for creating the music, he nonetheless portrays Phragments as a joint effort, crediting both himself and his wife - apparently because he considers the videos an integral aspect of the project. In a world that frequently renders women's labor invisible, Matej uses his greater visibility as a musician to call attention to her work as a videographer. He sounds like someone I'd like to know, even if I were unfamiliar with his music.
As I later learned, Phragments calls attention to the truism that all art is political, whether or not it's consciously acknowledged as such. What's highlighted, what's left out, and why? These decisions inescapably involve political dimensions as well as artistic ones, and Phragments approaches them consciously and judiciously. Into a musical milieu that often courts ambiguity and speculation about artists' political stances, Phragments transmits an exceptionally clear signal, taking a stand for justice.
A former academic living in Bratislava, Slovakia, Matej is perhaps best known for the success of orchestral industrial releases such as Earth Shall Not Cover Their Blood (Malignant Records, 2008), aptly described as "apocalyptic electronics." As founder of the Construct.Destroy.Collective label, his work expertly weaves together provocative historical themes and solemn emotional landscapes, with occasional forays into more meandering abstract soundscapes.
Phragments' extensive catalogue includes We Are All Beasts, Homo Homini Lvpvs, and Switzerland Occupied on the Construct.Destroy.Collective label (2005); a live album, Awaken the Wolves (2006); The Burning World on The Eastern Front label (2007); Mysteries of the Greylands, a collaboration with Korinth (Greytone, 2010); New Kings and New Queens (Malignant, 2013); All Towers Must Fall (self-released, 2016); and, most recently, Fratres - a compilation of collaborative tracks (Kalpamantra/Malignant Records/Construct.Destroy.Collective, 2018).
Other releases featuring Phragments compositions include Scrontum Act VIII (2008), a split with March of Heroes and Across the Rubicon, and many single-track contributions for compilations and benefit albums including "The Wind that Takes Away the Pain" (2013); "The Birth of a Star" (2010); "Ritual of Unbeing" (2014); "Hollow" (2016); and my personal favorite, "Frontiers of Hope" (2017). An unreleased Phragments track, "The Followers" - which I only discovered while doing background research for this interview - deserves an honored spot on a full album, if you ask me.
Notable for its minimalism, New Kings and New Queens marked a somewhat contentious shift in Phragments' musical trajectory, at least from the perspective of some fans and reviewers. Reactions ranged all over the map; a few reviewers even trotted out unfortunate adjectives such as as "dry" or "austere." I happen to find its subdued, languorous drones to be among Phragments' most exquisite work, particularly as a catalyst for creative flow states. Even after hundreds of listens, it still sends chills up my spine in the best possible way. I contend that patient listening to this timeless and underrated masterpiece will be rewarded many times over.
Another lush atmospheric selection from Phragments is "Into Nothing," a pensive track from All Towers Must Fall that I often loop on repeat to break the stasis of a stubborn creative block. The drones somehow sneak their slick sonic tentacles underneath the bottleneck and dismantle it bit by bit, delivering me into the zone through some circuitous route.
Lurking just beneath the disquiet, I continually rediscover labyrinthine hints of hidden dimensions and paradoxical truths yet to unfold in Phragments compositions. These layers, I suspect, become perceptible only to those who deeply engage and properly hone their listening skills over time. During the first two minutes of "As Hope Turns To Ashes," for example, I experiment with where I place my attention (and where I place my speakers and subwoofer) in an attempt to sift through what, exactly, those enticing whispered lyrics are saying before the line "…as hope turns to ashes, there is no tomorrow." Is this a hopeful missive about the resilience of life delivered in the guise of futility, or am I simply projecting my own idealism onto the artistic slate? Both, perhaps. Ash nourishes the rich soils in which seeds germinate, after all.
About All Towers Must Fall, I wrote:
"The aura of foreboding and apprehension is near-palpable in these richly layered orchestral dark ambient soundscapes...yet somehow, underneath the surface tumult and the ominous drones, an expansive quality makes itself known. It makes sense: there is comfort and hope in the fact that towers fall and empires crumble, after all."
I stand by those words. I find comfort and hope in the crumbling of tyrannical empires, and in the promise of long-suppressed ecosystems that might flourish in their wake. Steeped in apocalyptic electronics, Phragments inspires visions of propitious futures for life after empire.
Get cozy and listen in as this insightful musical prodigy graciously offers a window onto his work, including his long list of impressive collaborations. Matej and I compare notes on the difference between hearing and listening, dark ambient as a mirror of the inner self, the critical response to New Kings and New Queens, and a few of the hidden rewards of performing at sleep concerts.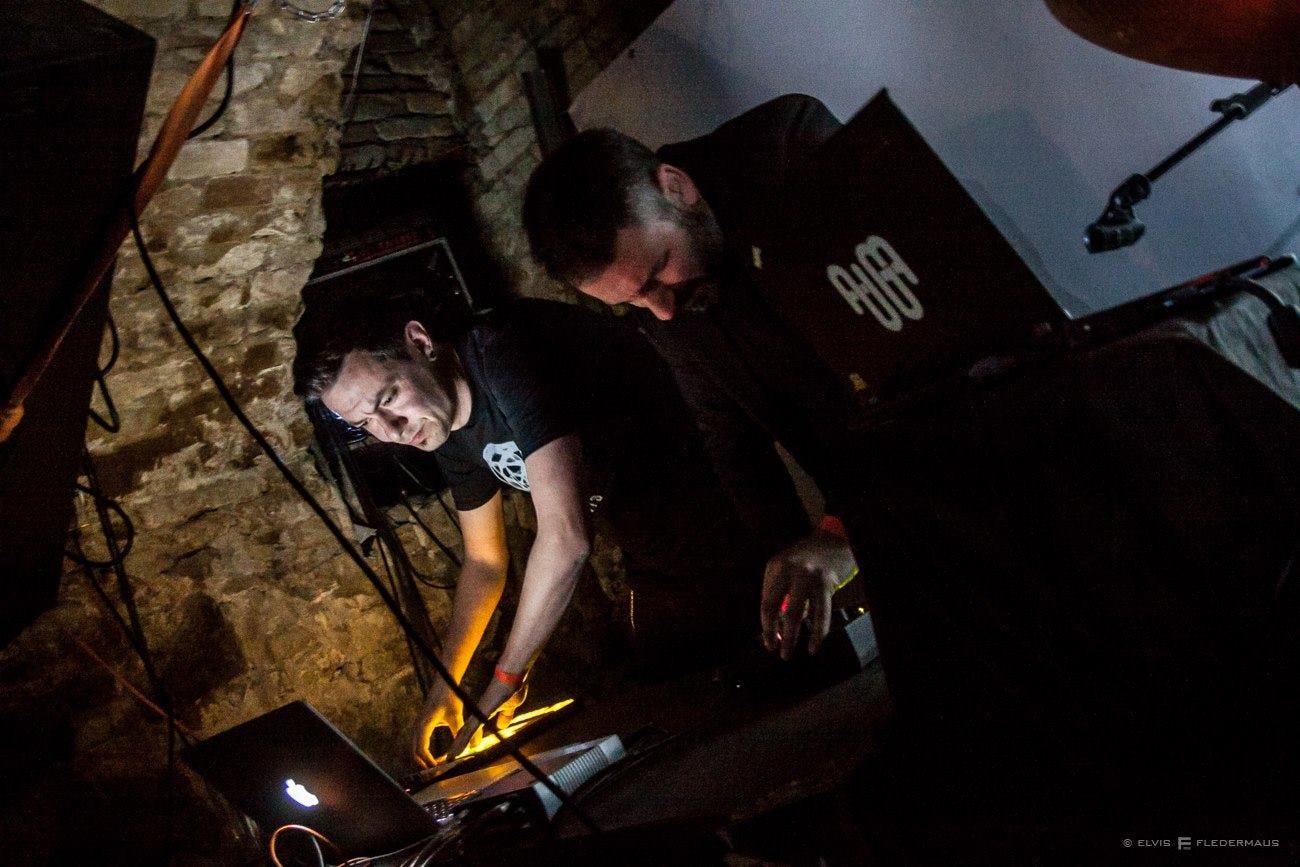 Danica: Greetings Matej! It's a pleasure to have the opportunity to interview you in depth. Let's start with a clarification of the project's line-up. Though Phragments is often perceived as a solo project, you've sometimes described it as a duo, featuring "Matej who creates the music, and Sonic(k) creator of the videos." Your creative collaborator and wife Soňa, also known as Sonic(k), produced the lyrics and vocal work for the track "Earth Shall Not Cover Their Blood," and a bonus video-track for the Homo Homini Lvpvs release. You've also worked closely with Metrom, Korinth (Robert Adamec), Atranenia, and Brada (Boris Sirka and Nenad Branković), among several others. What is the current Phragments line-up? Have there been any band member changes over the years since the project started in 2002?
Matej: Greetings Danica. Thank you very much for the opportunity. Musically speaking, Phragments has always been my solo project. In the early years, my wife Soňa created videos for the live shows. This was an integral part of Phragments live shows until around 2009. The visual aesthetics of the videos gave the whole performance a different aspect.
At first Soňa did cut-ups of old communist propaganda videos; then she moved to a less explicitly political form, playing with various combinations of desolate landscapes both natural and man-made. It all culminated with the beautiful "Macrocosmos" video, which she created using her own shots of nature. So at that time, it was only logical that I referred to Phragments as a duo.
Later on, though, I decided to play live without visuals. My decision was quite spontaneous; after Earth Shall Not Cover Their Blood I wanted to explore more formless territories musically. That time was all about deconstruction of what had been, and experimenting with how minimal I could get with the musical form. The result can be heard on the album New Kings and New Queens.
At that time I decided to drop the visuals during live events. It was a furthering of the path I started musically, transposed onto the concert experience. I wanted the audience to have no external "help", just to drown in pure music and emotion. A "stay, if you dare - or leave" situation. This was actually quite a radical step, since the majority of dark ambient artists have a visual backdrop when playing live. But it worked out great in the end. Not that I would disregard the visuals in any way; it's just not for me right now. But who knows? Maybe I will return to having them in the future.
Regarding Nenad Branković: Nenad is a good friend of mine and an artist whose work I've admired since we first met in the early 2000s. He has been very active as a visual artist, but later on he also entered the musical realm. Together with Michal Tornyai, they started the martial-dark ambient-drone project Metrom. We played a couple of concerts together, and after that Nenad and I started to jam together at his home studio. The first fruit of our labor was the collaboration track of Phragments and Atranenia (Nenad's solo project) "Evenfall" in 2011. Nenad also collaborated on my New Kings and New Queens album. Since 2012, he has been joining me as an active member of Phragments on live occasions.
Phragments will always stay first and foremost my own project, but I do like to stir things up a little to keep everything flowing. And coming full circle: Nenad is the designer of the cover artwork of all Phragments releases since Earth Shall Not Cover Their Blood. Our aesthetics are extremely compatible, so it was an easy choice.
Danica: How did you come up with the name Phragments, and what does it mean to you?
Matej: The name Phragments represents something symbolic, old, and disintegrated, but still very present. The meaning also refers to the music - the combination of fragments from different genres and musical cultures. The alteration in spelling was a spontaneous idea. I wanted to appropriate the word somehow so that it was mine, as was the music.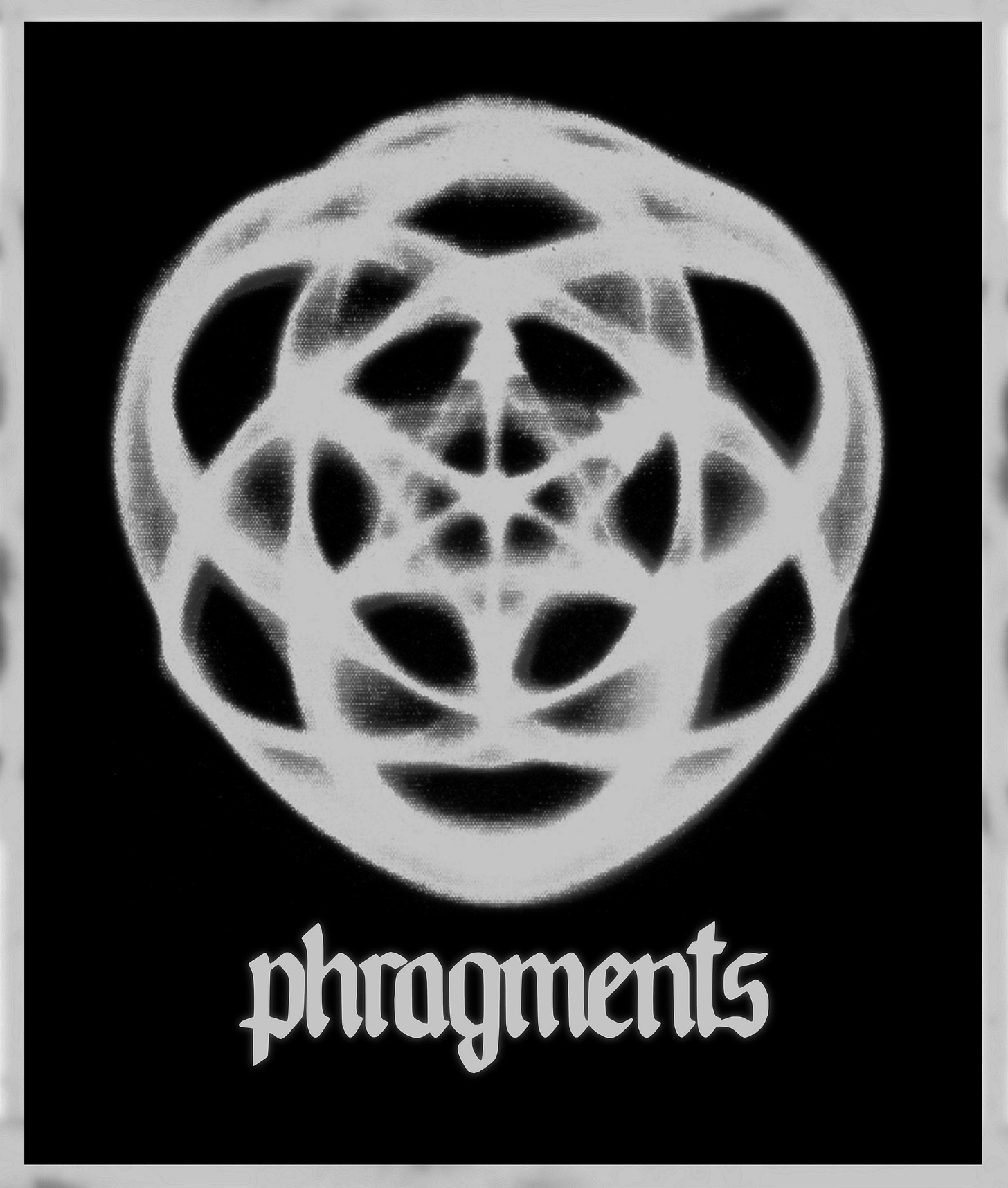 Danica: You've been outspoken about the importance of taking an unambiguous stand against oppression such as racism, sexism, and fascism. You wrote in a previous interview that Earth Shall Not Cover Their Blood is "a tribute to all victims of genocide and…a stance against the totalitarian ideologies, which have caused it." I'd like to hear more about the provocative philosophies and principled political stances behind your creative visions. Have you encountered any egregious misinterpretations of the statements surrounding your art?
Matej: Yes. I am deeply liberal in my worldviews; I believe that since all art is political (meaning even trying not to be political is a definitive political stance per se), one should stand behind what one believes in, or is strongly against. I think especially in genres like industrial and extreme metal it is necessary to take a stand, since it has nowadays become a sort of haven for various fascist individuals.
I miss the old-school approach, when this was just not tolerated. Ideologies that discriminate based on inborn traits are disgusting and should never be "protected" by freedom of speech. That's just bullshit. You do not discuss with fascists. Fascism is not a "different opinion on things," but an abhorrent ideology that must not be allowed into societies' standard discourse. When I started Phragments I was younger and a bit more narrow-minded, but the main points of my beliefs have not changed. I stand in strong opposition against totalitarian ideologies.
I have always been very open about all of this, so it came as a big surprise when I found out my music was being listened to by adherents of said ideologies. I even told several of "these fans" to just fuck off and not listen to my music. Of course I cannot make them comply, but maybe I can disgust them enough to stop! I miss the old times when musicians took a clear stand.
That's partly why I started to reject the "martial" genre moniker: because it lumped Phragments in one category with fascist and pseudo-fascist projects. I am very critical about what goes on in the world today, but in a much different way than this "against the modern world - romantically dreaming of a utopian epoch" bullshit. Wake up! It's not the 1850s anymore. There's no more space for ideological romanticizing after WWII.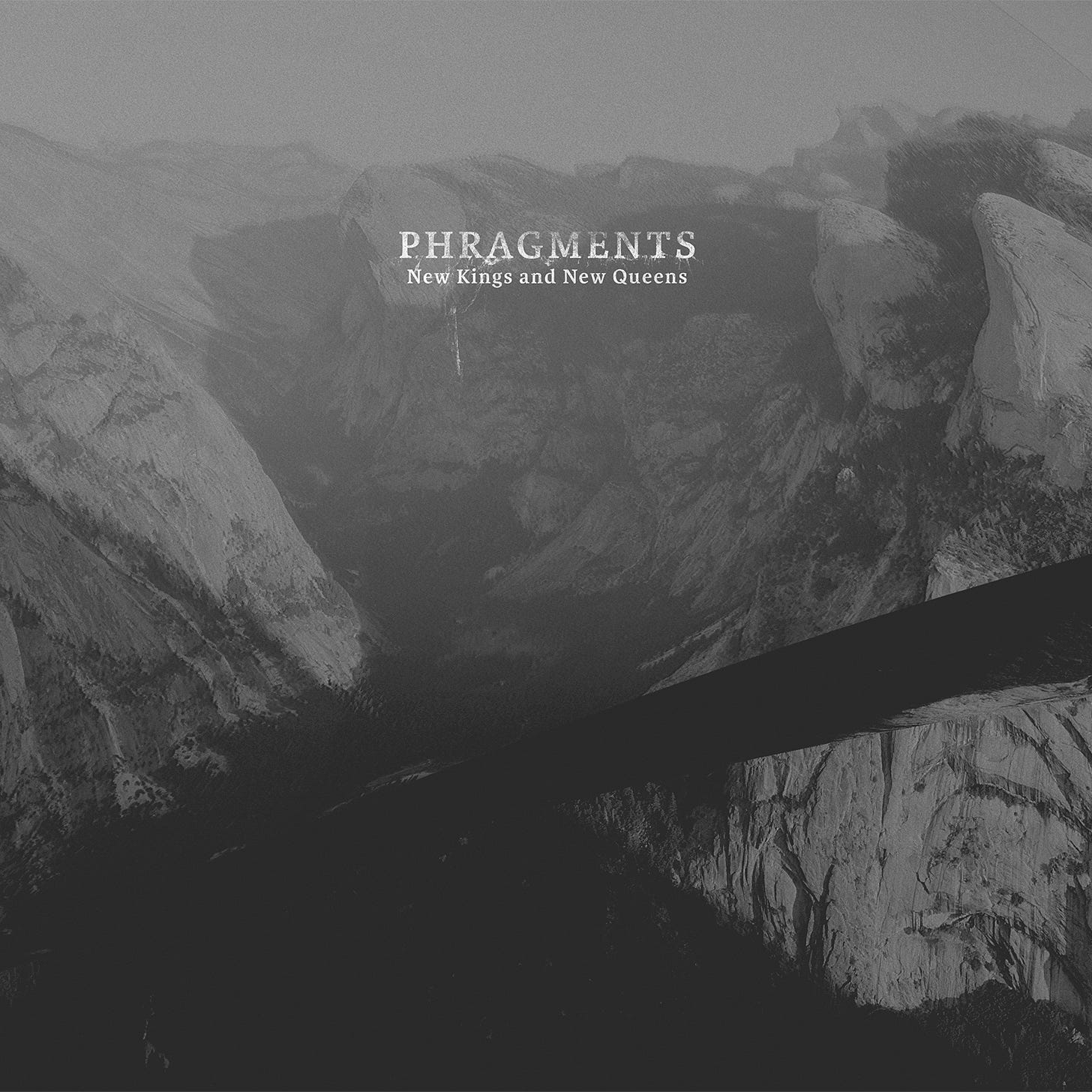 Danica: Your album New Kings and New Queens stands out from your other releases for its minimalism. Though the title refers to human beings and there's a story behind it, you've described the album's function as "a projection screen." The tracks serve as landmarks to provide a basic orientation, leaving a great deal of room for listeners to shape the work through their own perceptions. In this context, you also mentioned that one thing you appreciate about dark ambient is that it "leaves some work for the listeners to do and supports their imagination." Could you share a bit about the range of listeners' responses to the album? What kind of "work" do you feel is involved in developing a robust appreciation of dark ambient music?
Matej: New Kings and New Queens was my personal adventure, and also a rebellion of sorts. After the success of Earth Shall Not Cover Their Blood I felt I had arrived at a crossroads: either do another album in the same vein, or do something completely different. I chose the latter. I have to admit I did expect that it would piss off some of my fans. And it did. Not only fans, but also reviewers. However, the music wasn't composed with spiteful intent. It was an authentic portrait of where I wanted to go musically at that time. I just wanted to go as "bare-bones" as it gets, using practically no melody and very few obvious changes: pure atmosphere and emotion. Kudos to my label boss Jason Mantis (of Malignant Records) for accepting the album as it was, and providing me with the necessary support and creative freedom.
So New Kings and New Queens truly is a blank canvas for the listeners. It's akin to projective techniques in psychology, where the object serves as a means for the person to reveal things from their personal unconscious. In the end, what the listeners experience has a lot more to do with themselves than with the recorded music. Some of the listeners found the album to be very calm. Some found it completely oppressive.
This is like magic for me: to be able to offer the listeners a space for self-reflection. I loved creating the album, although it was definitely the toughest one to give birth to. I went through endless exploration. I drifted off on it, often felt unable to focus on critical listening, and encountered some really bizarre technical issues when mixing it. But it was worth it a thousand times.
Regarding the last part of your question: I think in order to become a regular listener of dark ambient (and I don't mean once a month; I mean much more often than that), one has to be a rather trained listener. It's helpful to have some experience with other complex and fringe genres before truly appreciating dark ambient. It's one thing to listen to it as a part of a film or game soundtrack, and quite another to listen to 60 minutes of it consciously. One must have an affinity for the obscure, and for that which lies beyond. One must have a fondness for escapism and adventure. And patience, too, is a must.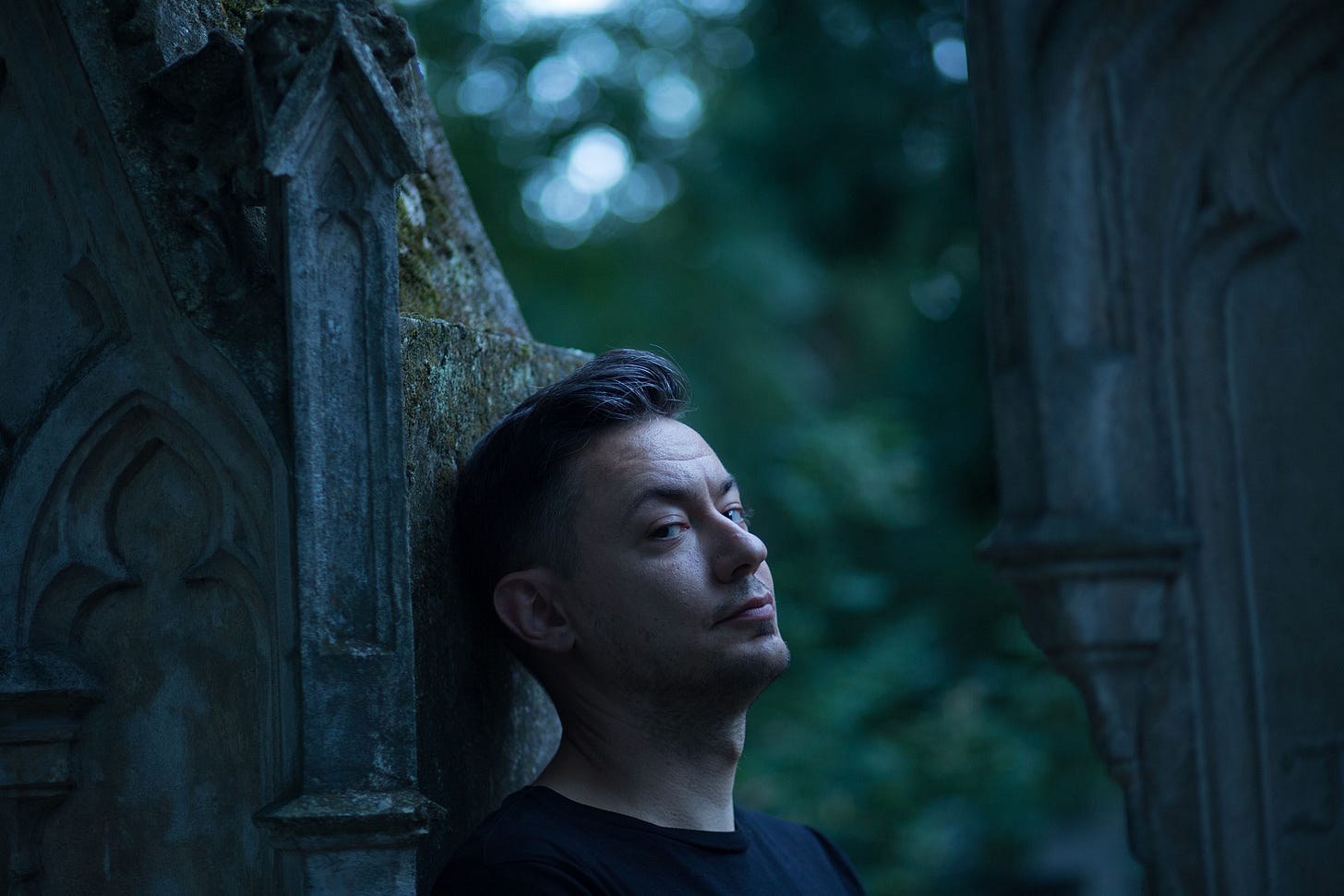 Danica: You've described Phragments as "orchestral industrial" as well as dark ambient. I'm curious about your industrial roots, especially as expressed through early Phragments releases such as We Are All Beasts. Switzerland Occupied, your second release, is classified as rhythmic noise. What routes did you take, musically speaking, that led to the formation of Phragments? Were there any unexpected factors that played pivotal roles in your early musical trajectory?
Matej: There were quite a few unexpected factors. In order to understand, one needs to know a bit about my own musical history. When I was about 8 years old, my older sister bought a tape with a Guns n' Roses album that rocked my world hard. Then, around the age of 12, it was Depeche Mode and grunge at the same time. I also got into extreme metal quite early on, when I was 14. Not in the usual Iron Maiden way, either. Mostly doom and black metal. I went straight for the extreme stuff.
At 15 I was introduced to Cold Meat Industry. This was a completely new and utterly fascinating universe for me. I started with Arcana, and followed with artists such as Desiderii Marginis, raison d'être, and Coph Nia, slowly devouring most of CMI's catalogue. However, it was more than seven years later that I founded Phragments, so I had plenty of time to discover different musical genres and figure out how I wanted to approach things. I've also been influenced by 1980s goth and '60s psychedelia.
I did refer to Phragments' sound in the past as orchestral industrial. My original musical goal was to combine orchestral and industrial elements. Musically and aesthetically, my roots are firmly based in both genres. During the first years of Phragments, I had both orchestral and industrial tracks, but most of them were a blend of these two genres. Regarding dark ambient: this came naturally, without me consciously wanting to incorporate it. The dark ambient started to be more prominent on Earth Shall Not Cover Their Blood and then came into full force on New Kings and New Queens. All Towers Must Fall is, in a sense, the beginning of a new musical era for Phragments. This era isn't as stylistically pure as New Kings and New Queens, and once again I'm using a combination of different elements, but this time they grow out of dark ambient. I have a soft spot for opposites, so even if I think I am working on an album with a softer sound, the disruptive noisier elements tend to find their way in. The material for the new album is most definitely dark ambient, but again there are some new elements.
There are also lots of non-musical factors that influence the direction of my music. It's mostly books and visual art, but there are also a lot of indirect influences from atmospheres and emotions that I then transform into compositions of my own.
Danica: You have an extensive background in higher education. You completed a master's degree in psychology, and a doctoral degree for which you wrote a thesis on the psychological aspects of film music. You served as a faculty member at the Academy of Performing Arts in Bratislava, Slovakia, and you have lectured internationally. Do you still teach? How has your education - formal and informal - shaped your work with Phragments?
Matej: I do not teach anymore. I taught for eight years; it was a great, intense time. However, I burned out after that, said goodbye to academia, and found a new field to work in. My studies did bring me a much deeper understanding of sound and music - meanings, origins, and contexts - but I don't think my education directly influenced my musical work. I consider my music to be completely separate from all other areas of my daily life, and I never over-intellectualize the composition process. I try to compose based on what I feel and what I want to "paint" with my music.
Danica: In their book Spaces Speak. Are You Listening?, Barry Blesser and Linda-Ruth Salter discuss aural architecture and auditory spatial awareness. They assert that modern culture devalues engaged listening, and overemphasizes the visual and utilitarian aspects of physical spaces. Blesser and Salter distinguish hearing (detection of sound) from the aural or human experience of sound, and also from listening (actively attending to meaning, symbolism, and emotions involved in sound). What are your thoughts on the art of listening? If you were asked to design a contemplative space exclusively for the purpose of using dark ambient music to facilitate meditation and deeper listening skills, how would you approach this challenge?
Matej: This question feels very much like one of my lectures, but I'll try to be brief!
Both hearing and listening are important when perceiving music. Hearing attunes your body to the music, and is responsible for various phenomena, e.g. the perception of surprise in a musical composition. However, listening is much more important. That's where emotions and meaning emerge.
While hearing is more general and its principles work more or less the same within one culture, listening is a completely unique process, influenced strongly by factors on the side of the perceiver. In other words, what you feel and perceive when listening to music - especially in an abstract genre such as dark ambient - is very much YOU. Your perception is colored by your character, experiences, preferences, fears, and yearnings.
Regarding perfect spaces to listen to music, I'd distinguish between a concert situation and domestic listening. In my opinion, both provide great possibilities for deep listening and introspection. Dark ambient live performances are different to performances in other musical genres. People do have a certain feeling of togetherness, but it's more akin to a cinematic experience. When watching a movie in a cinema, you're basically alone with the movie, but simultaneously surrounded by many people that are also alone with the same movie. Thus, a collective experience emerges. So I'd argue that a live performance listening situation is also amazing for dark ambient, provided the audience is respectful and came to enjoy the performance in the first place.
I love playing live in strange environments. Over the years, I've played in a WW2 shelter, a theater hall in a renaissance castle, an abandoned decaying 16th century monastery…you name it. These places provided amazing experiences, both for me as a musician performing there and also for the audiences. I feel that live dark ambient music is best experienced in places with a specific history and past.
In a domestic listening environment, I usually listen to dark ambient via headphones, and mostly at night. I don't have a specific listening room, since listening to dark ambient mostly transports me to another world, almost instantly. However, I know a lot of people prefer specific rooms in which they can be surrounded by the music (as physical media, artifacts, and sound). I would definitely recommend a dampening down of visual stimuli, since visuals can distract the listener from the minuscule details present in dark ambient music.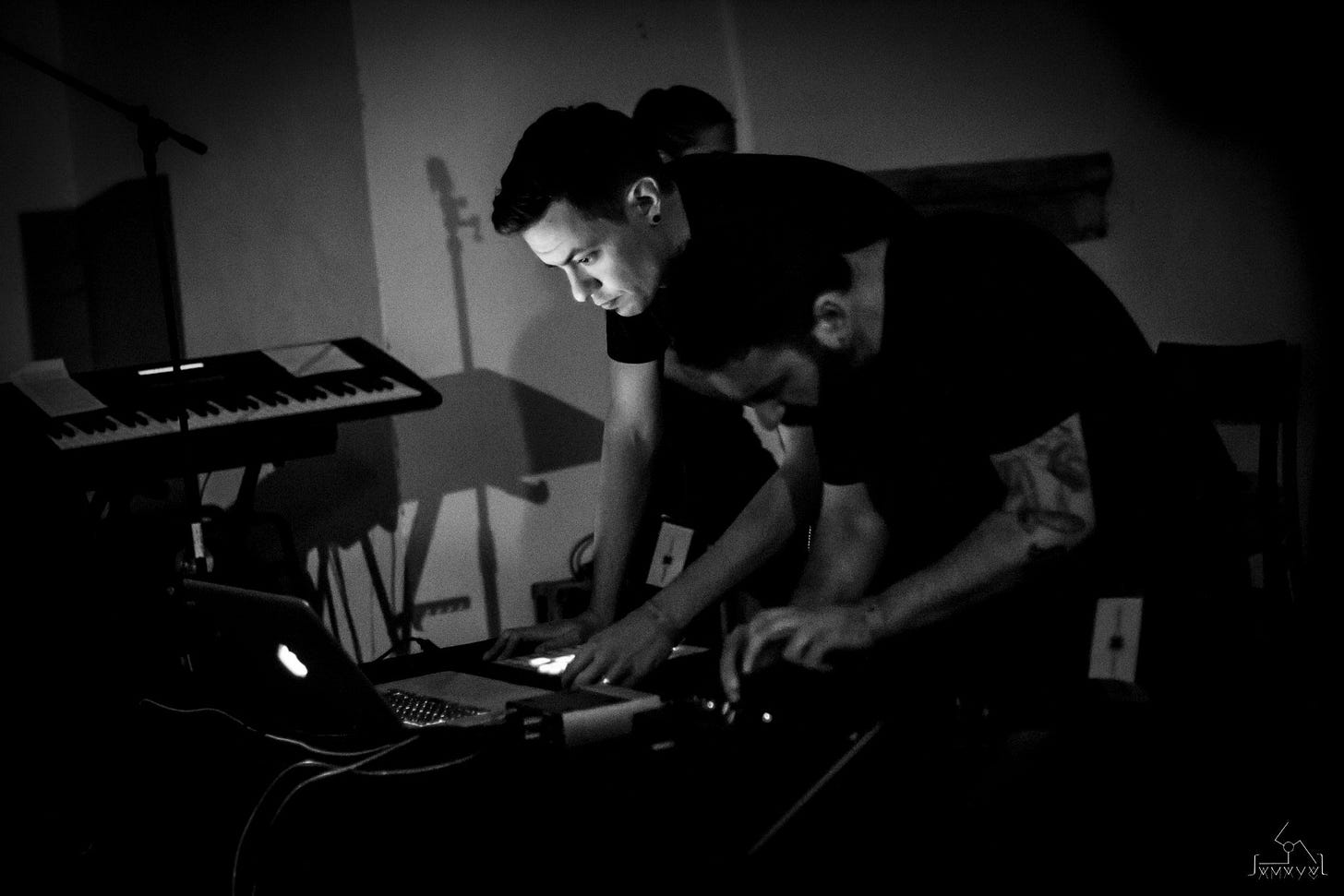 Danica: You've participated in many artistic collaborations, working with projects such as Metrom, Korinth, Mindspawn, Rasalhague, Shock Frontier, and Terra Sancta. What do you consider the most important qualities for fruitful creative collaborations? Reflecting on the creative processes involved, did you learn anything that stands out in hindsight?
Matej: I love collaborations. I was in a band before going solo in the early 2000s. One of the main reasons I went solo was to have total control over everything. I wanted to compose music my way, without any compromise or influence from others. After a couple of years it does get lonely, though, and the complete freedom also becomes a jail of sorts. So it was mainly for creative reasons that I decided to do collaborations once in a while.
My first collaboration was with Korinth. We worked on the compositions for the Mysteries of the Greylands album for almost two years. The result was great and the process has also awakened creative currents in my solo work as Phragments. Having another head, soul, and heart to work with during the composition process is a great adventure. I've never had a bad experience, but this is probably due to the fact that I only collaborate either with friends or people that I feel extremely close to musically. In my opinion the most important quality for a fruitful collaboration is a certain closeness, perhaps even intimacy, whether it's a personal or an aesthetic-musical one. And both parties have to put their egos into the background.
I really enjoyed each and every collaboration I've ever done. That's why I decided to release the Fratres album, which collects all the collaborative compositions from the past few years.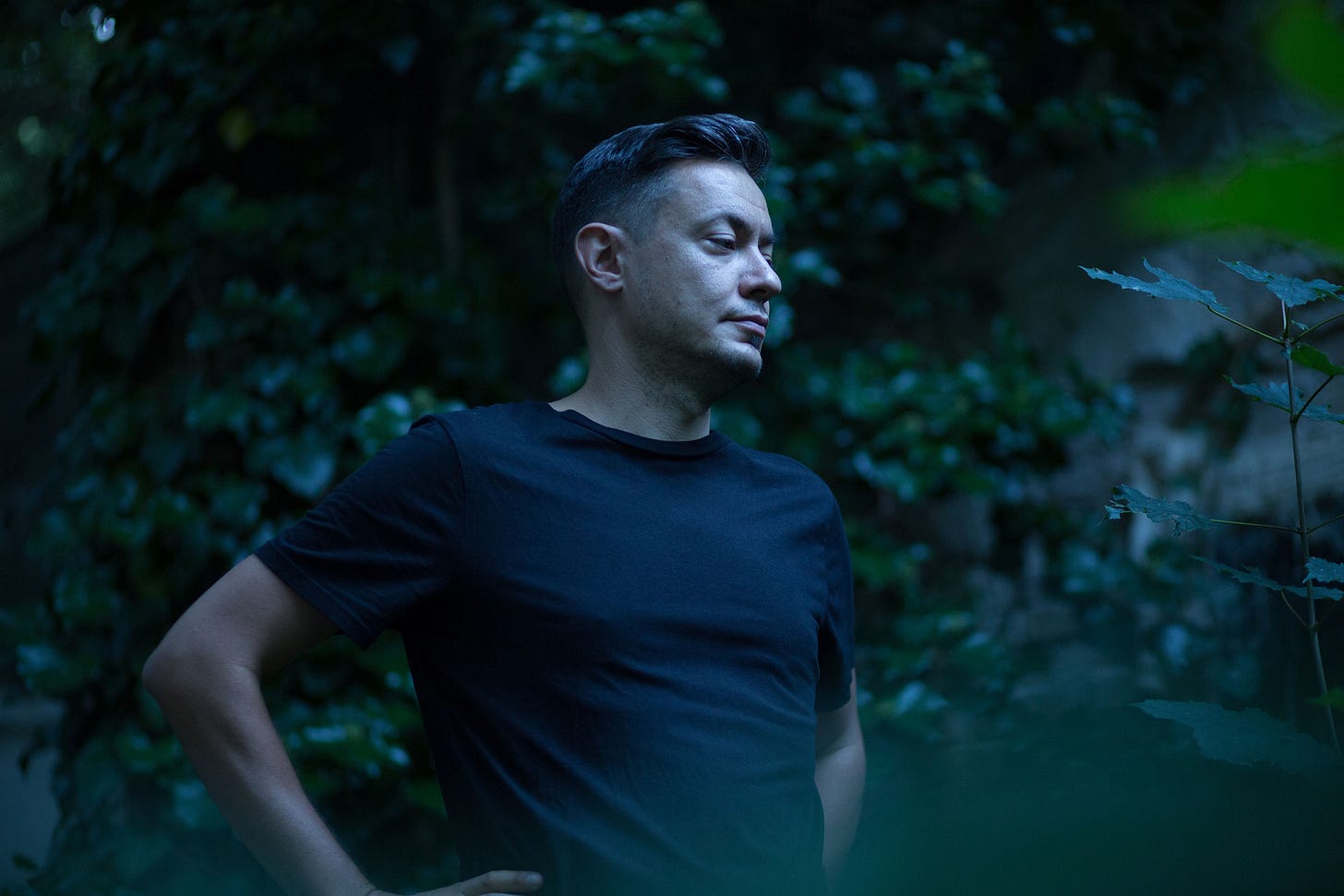 Danica: I'm curious about your everyday life - work, family, friends, interests, and other activities. How do you spend your time, and how does making music fit into the picture for you? How have changes in other spheres of life affected your music over the years?
Matej: First of all, I am a husband and devoted father of two sons, and family will always be my main focus. My sons are still very young, so I try to spend most of my free time with them. I try to enjoy it while it lasts, before they go on their own paths.
I'm currently working as a Creative Communication Director for an ecological housing product. Most of my work relates to PR and marketing, which I mostly enjoy.
Music is, and always has been, my hobby. I've never wanted it to be a job, because what I do is a fringe genre. I wouldn't want to compose music for money, since I would probably not have the energy nor creativity for what I really want to do. I've created music for a couple of theatre and film projects, but the reason was always my appreciation for the projects, never the money. My music is sacred for me: it's a refuge, a place to channel emotions, create worlds, and find inspiration.
My music changes as I do. Every album is an approximate reflection of where I was at the time personally. But since I don't have the capacity to analyze myself, I can't give you any specific examples. My life experiences do impact my music, of course, but I'd compare them to ingredients in food. You don't really notice the specific ingredients, but if you removed any of them, it would be a different food. What I do know is that I'm only able to compose dark ambient when I'm relaxed and in a good emotional state. I can't compose at all when I'm stressed out or feeling down.
Danica: I'd like to hear about your literary tastes. Do you have a shortlist of favorite books? What have you been reading lately that you recommend?
Matej: My literary tastes are quite specific. I've always loved reading about music, whether through reviews or books. I have a nice collection of books on extreme metal, and a rather small collection of books on industrial and ambient music. I'd also love to have a book on dark ambient (wink wink). When I was an academic, practically the only books I read were specialized books on sound in artistic and everyday contexts, so I have quite a few of those, too.
After my friendly divorce with academia, I was deprived of stories, and I rediscovered my old passion: comic books. The more difficult ones, I mean. Not superhero comics. In the last couple of years I've read graphic novels almost exclusively. My favorite author is probably Alan Moore. He is an important inspiration for me, both as an author and as a person.
The list of other authors and works is too long to mention here. I've read over 30 graphic novels in 2019 alone. If anyone wants some tips, drop me a line! When it comes to books, throughout my life I've been an avid reader. My favorite authors of fiction include: Andrzej Sapkowski, Aldous Huxley, Hermann Hesse, August Strindberg, J. G. Ballard, Peter Høeg, Ian McEwan…and the list goes on.
Danica: Dark ambient music is sometimes described as "an acquired taste." If you were asked to make a good case for why a newcomer should listen to dark ambient, what would you say?
Matej: Hmm….this is a hard one, since I deeply believe in total freedom to listen to what one desires and apply a "laissez-faire" approach. I did promote dark ambient a lot in the past though, mainly for the extreme metal scene. I have always thought that the genres have a lot in common in terms of meaning, emotion and atmosphere, and so a large group of extreme metal fans theoretically should like it. I was right: since the mid-2000s, extreme metal fans have finally started to discover and appreciate dark ambient.
Nowadays I don't have the urge to convert anyone. Do what thou wilt shall be the whole of the law, right? I can only share what I've found in dark ambient, and if that sounds interesting to someone who isn't acquainted with the genre, then perhaps they should try it out.
What I found in dark ambient was a feeling of positive solitude. You have to understand that unlike most of the dark ambient fans that I have met, I am a very extroverted person. But us extroverts also need a place to wind down - a place for introspection and self-reflection.
Another extremely important and utterly fascinating aspect of dark ambient that I love is the feeling of discovering new worlds. I also appreciate its timelessness, which I consider to be really important to re-discover in our hyper-accelerated world. Even within the extreme metal genre, I've always had a soft spot for doom metal, a subgenre known for its crawlingly slow tempos. Dark ambient was the next logical step - from tempos so extremely slow that it becomes hard to stay in beat, to complete dissolution of tempo and a feeling of timelessness.
Timelessness is still quite a worldly quality, but it's very close to the concept of eternity, which on the other hand is a completely spiritual quality. Here we start to shift to completely different spheres of philosophy and real spirituality. How many musical genres nowadays allow you to get in direct contact with those?
Danica: You indicated above that one thing you appreciate about dark ambient is that it enables "direct contact" with spirituality. If I understand correctly you consider yourself a Pagan. This makes me wonder what kind of role, if any, dark ambient music plays in your spiritual life and how it relates to your paganism. Does it vary based on whether you're engaging with the music as a composer or as a listener?
Matej: I consider myself a pagan from the point of view of an organized religion - as in I am "outside of the religious group", "not serving the traditional god". However, I am not religious in any sense. I've always had a lot of interest in different mythologies, and I'm a great fan of Norse mythology.
Dark ambient music is a great gateway to spiritual experience - this is connected to the self-exploratory and introspective aspect of the genre.
It does vary a lot depending on whether I engage as a composer or as a listener. Unlike a lot of others, I do not perform any religious or semi-religious rituals. When I compose, it's a combination of the rational (the work with composing tools as such) and the emotional (my own emotional investment). Then of course there's also the meaning-making work that I apply to the process. So there has to be a lot of control and conscious decisions present, which for me stands in opposition to spiritual experience.
On the other hand, when I engage with music solely as a listener, there is no control. No borders, no inhibitions, just pure emotion and meaning-making. For me this serves as a perfect combination for a direct spiritual experience.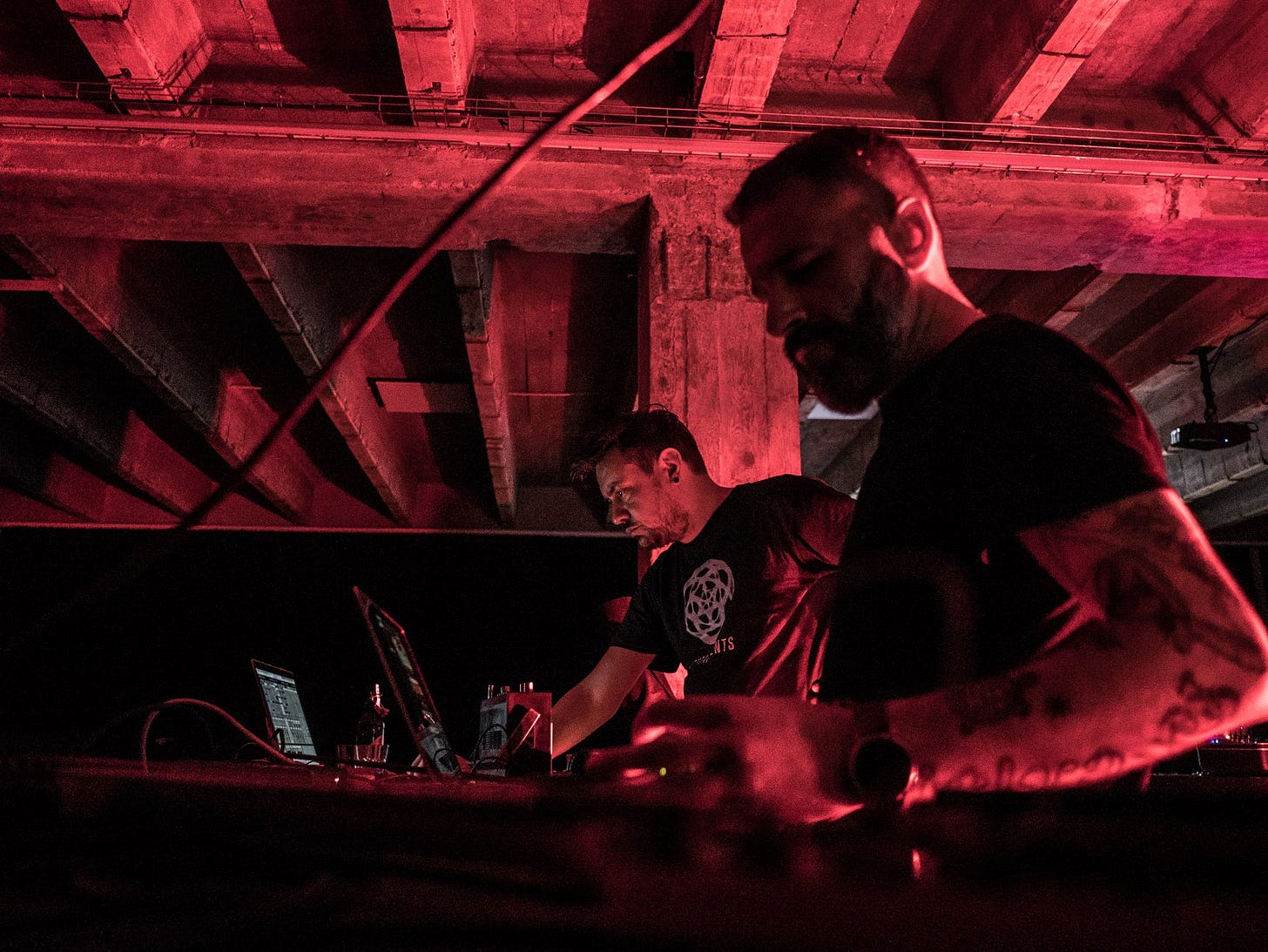 Sleep concert performance by Matej and Nenad in Bratislava. Photo credit: © Boris Vitazek

Danica: Phragments recently performed at a sleep concert in Bratislava. What do you enjoy most about sleep concerts? What do you find most challenging?
Matej: Oh, I loved the whole experience. I've always wanted to take part in a sleep concert. I even thought of organizing one, but then I immediately remembered the few concerts that I have organized throughout the years - I could never really enjoy the musical performances themselves. So I was very happy when I got invited to the first sleep concert held in my hometown of Bratislava.
I prepared a special improvised set, very drone-y, without the occasional rough-sounding industrial elements. We (Nenad Branković and I) played around 1:00 AM, with most of the audience sleeping or drifting off. It was an amazing feeling to play for an audience with an altered state of mind. We were in total control, but we were also entrusted with the responsibility to avoid invading their mental space in a brutal manner, since in states like this, you are more open and your defense mechanisms are down.
Overall, it was an adventure that I really want to repeat. Also, in terms of the actual performance, we had much more freedom and time. Basically, when you play dark ambient to a sleeping audience, you can lose the last of your inhibitions as a performer. Since the audience really doesn't have any direct expectations, they don't need to be entertained at all. You can play really slow and "boring". This is a very refreshing aspect that I hadn't considered prior to the concert itself.
Danica: Artists often consider themselves to be mediators, vessels, or transmitters of something otherworldly or mysterious. On this view, one measure of a skillful artistic performance is its ability to awaken something vulnerable in the listener. In other words, effective art helps us become acquainted (or re-acquainted) with hidden, repressed, or previously unknown aspects of ourselves and our surroundings. What are your thoughts on this?
Matej: I very much agree. In order to evoke anything at all in the listeners, you have to get under their skin, meaning inside their psyche. Once you are able to get in - or, better to say - they let you in, their normal defenses must be lowered. This sounds so serious when it's put into words, but in fact it's a beautiful process.
There's something very special about dark ambient in this regard: the abstractness of the genre and musical form and the minimal points of orientation on one hand, and the strong atmosphere and emotional impact on the other. All these things make it extremely well suited for the projection of the listener into the musical canvas, including introspection (as in observation of one's inner world), self-exploration, and growth.
However, this can only happen if the listener is "tuned" to the artwork, accepts the musical language, and is ready to be absorbed by it.
Danica: What conditions (environmental, cultural, social, etc.) bring out the absolute best in you, creatively speaking? What helps you thrive as an artist?
Matej: Years ago, I thought I knew what it was that awakened my creativity. The older I get, though, the less certain I am about that. My own creativity is a mystery for me. I can only guess how things inside my brain might work.
There are a couple of things, though, that I am certain have a strong impact on my overall creativity. First is the environment. I get inspired mostly in nature or at places with a strong presence; ruins of castles do magic for me. You know, Slovakia has the most castle ruins per square kilometer of all European countries. I also enjoy abandoned old buildings far from civilization. On rare occasions I also find inspiration in urban environments. For example, the neo-gothic churches in Manhattan are among my personal favorites. The way they are stuck in the midst of the skyscrapers is both surreal and haunting. It makes an otherwise quite dehumanized place come alive, gives it historical perspective, and emanates beautiful darkness.
In the last couple of years I've noticed that my creativity tends to bloom during someone else's artistic performance that I enjoy. Whether it's a concert, film, installation, or theatre play, I notice that while being exposed to the art, I feel the urge to create. It's not that I would lose focus during the piece; I just get a massive dose of creative energy. My music is a refuge for me. It's an outlet for emotions. It's something that I love, want, and have to do.
Danica: Is there a closing message you'd like to leave for readers of Endarkenment?
Matej: I would like to thank you very much, Danica, for giving me the opportunity to do an in-depth interview. For the readers: I am happy for every one of you. If you haven't had the chance to listen to Phragments, give it a try!
Phragments live @ Hradby Samoty V., Castle Rosice (CZ), July 2014
---
UP-AND-COMING INTERVIEWS (2019-2020):
* Simon Heath of Cryo Chamber
* Boris Tyurin of Out Of Hell
* Alexander Leßwing of Skadi
* Martin Stürtzer of Phelios, organizer of the Phobos Festival
* Dark Ambient Sound Bath

PREVIOUSLY PUBLISHED EXCLUSIVE SUBSCRIBER-ONLY INTERVIEWS:

* Scandinavian Heritage: An Interview with Ulf Söderberg
* A House Between Worlds: An Interview with Hypnagoga Press
* The Power of Nature: An Interview with Northumbria
* Where Curiosity Leads: An Interview with Desiderii Marginis

READER FAVORITES:
* Uneasy Listening: Dark Ambient Music Appreciation for Pagans
* Playlist - The Void: Dark Ambient for Deep Meditation
* Dark Ambient Journalism: Interview with the Writers
Archive of all previous issues here.
---
Image credit: graphic art by Pär Boström (text layer by Danica)